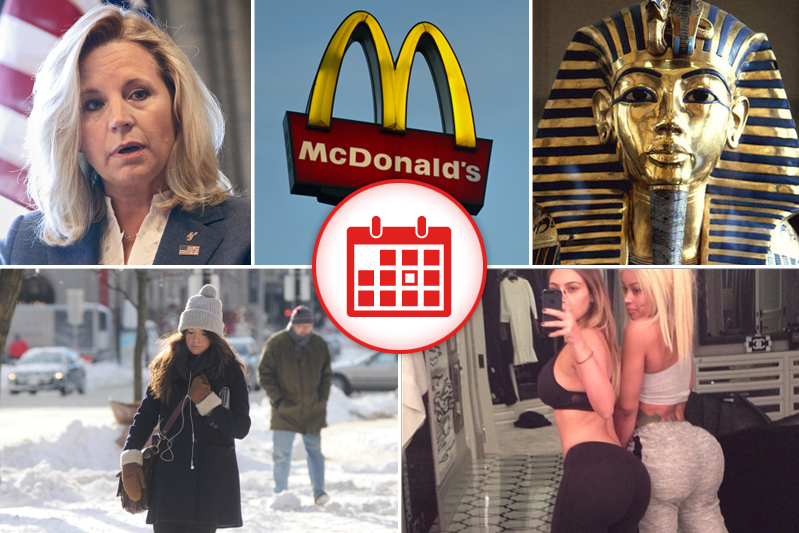 1. Kim Kardashian and Blac Chyna Present Their Backsides To The Internet, Which According To Behaviorists Is A Friendly Gesture
Kim Kardashian and her friend Blac Chyna, both of whom have recently given birth, posted a pair of double-selfies containing four triple-selfies worth of butt, five quadruple-selfies worth of post-baby self congratulatory boasting and one single-selfie worth of self awareness.
My Christmas wish was either for peace in the Central African Republic, or for Kim Kardashian to "get her body back."

— Thomas Lennon (@thomaslennon) December 23, 2013

2. Sucked Into A 'Polar Vortex,' The U.S. Finds Itself Transported To Distopian Universe Of Cold And Sadness
The United States awoke Monday morning and found itself caught in what meteorologists call a 'polar vortex'—sort of like a hurricane from the North Pole—that seemed to magically transform half the country into a brutal sub-zero frozen wasteland of misery and frustration. Or, in other words, Canada.
Are we sure this "Polar Vortex" isn't just another one of Jimmy Kimmel's wacky hoaxes?

— Krister Johnson (@KristerJohnson) January 6, 2014

3. Science Teacher Loses 37 Pounds Eating Only McDonald's Food, So You Should Probably Eat Seven Big Macs For Lunch
An Iowa science teacher lost 37 pounds over the course of three months eating only at McDonald's, thus proving that a person can lose weight on a fast food diet provided they eat barely any of it and are meticulously careful with the little amount they do eat.
I've stopped tasting individual flavors at McDonald's. Everything just tastes like McDonald's.

— Will Phillips (@TheThryll) December 19, 2013

4. King Tut Was Such A Baller, He Had Himself Buried With A Hard-On
King Tutankhamun—who died in Egypt in 1323 BCE—was apparently mummified along with his erect penis sticking straight up at a 90-degree angle. Because, you know, there's some hot-ass ghosts floating around in the netherworld. A Pharaoh's gotta be prepared.
Before Google, if you wanted to learn about King Tut you had to listen to the song by Steve Martin. Turns out there were inaccuracies.

— Tim Siedell (@badbanana) August 4, 2013

5. Dick Cheney's Daughter (The Homophobic One, Not The Lesbian One) Quits Senate Race
Liz Cheney—who caused controversy during her bid to win the Republican candidacy for one of Wyoming's senate seats by holding the party line and voicing opposition to gay marriage despite her sister Mary being an out lesbian—has decided to drop from the race. Not so much due to family tensions, but because nobody wanted to vote for her.
Liz Cheney has dropped out of her race for the Senate to spend more time alienating her family.

— Warren Holstein (@WarrenHolstein) January 6, 2014