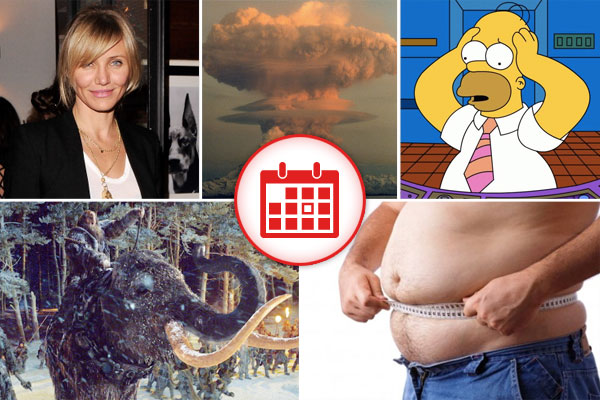 1. CNN To Play Out Modern Civilization With Classy-Sounding Brass Band
A former intern for CNN recently released a video that the cable news network's owner Ted Turner had created for the express purpose of playing it when the end of the world as we know it happens. The one-minute-long video features a brass band playing a moving version of the spiritual "Nearer My God To Thee." This will presumably be the last piece of real civilized culture many humans will get to experience before donning studded jock straps and chasing each other across desert wastelands and fighting over caches of sweet, sweet gasoline.
If the world ended today, a hologram of Anderson & Wolf would make out on CNN as "It's The End Of The World" played. http://t.co/SBnKppG7Nk

— bobby finger (@bobbyfinger) January 5, 2015

2. Aging Spinster Cameron Diaz Finally Finds Person Willing To Marry Her
Cameron Diaz—co-star of 2014's Annie and Sex Tape—was reportedly wed to Benji Maddon of the rock band Good Charlotte in a Jewish wedding ceremony held inside the actress' Beverly Hills home. The two performers were by all accounts acting of their own volition and neither appear to have been in thrall to powerful hypnotists or outside forces, so congratulations to them!

Look, I realize that Cameron Diaz is terrible in the Annie movie, but making her marry the Good Charlotte guy seems cruel and unusual.

— John Ross Bowie (@JohnRossBowie) January 5, 2015

3. HBO Invites Game Of Thrones Fans To Spend A Bunch Of Money To Watch Some Episodes They've Already Seen
The final two episodes of this past season of HBO's Game of Thrones will get a limited IMAX theatrical release at the end of this month. In case the idea of spending $20 and waiting in a long line to see some things you've already seen doesn't entice you, they will be screened along with a short trailer for the upcoming season which will probably be on the Internet before the two episodes are over.
Game of Thrones now has 3 characters who are castrated eunuchs; a casting feat matched only by the modern Democratic Party.

— John Fugelsang (@JohnFugelsang) November 4, 2014

4. New Pill Will Trick Your Body Into Being Less Disgustingly Fat
Scientists are currently testing a new drug called fexaramine which may curb weight issues by tricking your body into thinking it's not hungry, so that you are not compelled to eat a meal that you probably don't need. That way you can skip all the empty nutrition and get right to the delicious dessert.
The fastest way to lose weight is to stand over a cutting board with a square of cheese & keep eating pieces, right? I thought so, thanks!!!

— Matt_Dwyer (@Matt_Dwyer) November 26, 2014

5. After 25 Years, The Simpsons Finally Takes A Chance On A Young Writer Named Judd Apatow
A quarter-decade after receiving a spec script from 22-year-old future comedy mogul Judd Apatow, the producers of Fox's long-running animated series The Simpsons have finally decided to use it. The episode—which is probably just a thinly veiled exercise in autobiography peppered with a handful of penis jokes—will air this Sunday.
when I have kids they will be raised PROPERLY. (they'll only be allowed to watch seasons 1 through 10 of the Simpsons)

— Mary Charlene (@IamEnidColeslaw) December 26, 2014