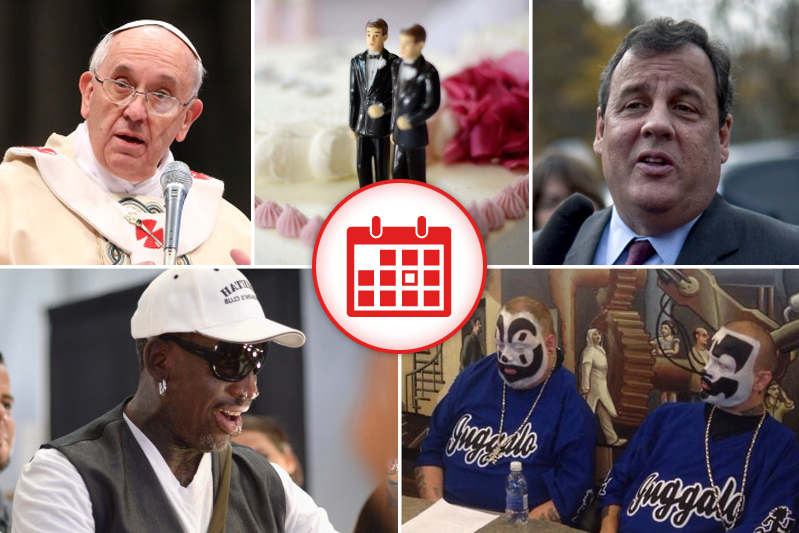 1. Dennis Rodman Apologizes To CNN, Says He Was Drunk During Interview, Which Really Doesn't Explain Every Other Time We've Heard Him Talk
Dennis Rodman, who more often than not is saying or doing something crazy, apologized for his crazy behavior during a CNN interview the other day, explaining that at the time things were not going well with his crazy basketball team idea and he was also kinda drunk: "My dreams of basketball diplomacy was [sic] quickly falling apart. I had been drinking."
Dennis Rodman makes me think they've been investigating concussions in the wrong sport.

— Rob Kutner (@ApocalypseHow) January 9, 2014

2. Insane Clown Posse Got Those Hardcore Ninjas From The ACLU  To Help Tear The FBI A New Faygo Hole
The ninja harlequin hip-hop group Insane Clown Posse and the American Civil Liberties Union filed suit against the FBI and the U.S. Department of Justice yesterday due to their decision to classify the group's fans—known as "Juggalos"—as criminal gang members. No jokes needed here. Move along.
FBI is being sued by Juggalos, fans of Insane Clown Posse. ACLU press conference. Still wearing the paint. pic.twitter.com/0TqZYBgLYD

— Khalil AlHajal (@detroitkhalil) January 8, 2014
Many don't know this but Ronald McDonald was a founding member of Insane Clown Posse, but left to find success. He's their Justin Timberlake

— Mikey Mileos (@mikeymileos) August 28, 2013

3. Chris Christie Is 'Outraged' That Found Out About That Shitty Traffic Thing He Did
New Jersey Gov. Chris Christie says that he is "outraged and deeply saddened" to find out that several of his aides intentionally caused a massive traffic jam on the George Washington Bridge just after he told them to do it.
Chris Christie throws top aides under the bus. But the aides are okay because the bus is stuck in traffic.

— Matthew O'Brien (@MattOB34) January 9, 2014

4. Utah Really Torn Up About Having To Tell 1,300 Sinful Gay Couples That Their Filthy Abomination Marriages Aren't Valid Anymore
The state of Utah was deeply troubled yesterday to be compelled to inform 2,600 newly married homosexual state residents that their marriages were no longer being recognized while the state appeals a federal court decision that briefly opened a window for marriage equality. Utah was soooo sad, you should have seen its face.
when does rodman go to utah?

— nate craig (@Natecraig1) January 8, 2014

5. Pope Francis Now Offering Personal Taxi Service Through Vatican
Pope Francis ordered his Popemobile to be stopped yesterday so that he could pick up an old Argentinian friend of his, Reverend Fabian Baez. No indication of what the final fare was, though, being a simple man, the Pope likely eschewed the tip.
Pope Francis is the most progressive guy I can think of who works in a castle and believes demons are real: http://t.co/0p6pGMow78

— Jared Logan (@JaredLogan) January 8, 2014