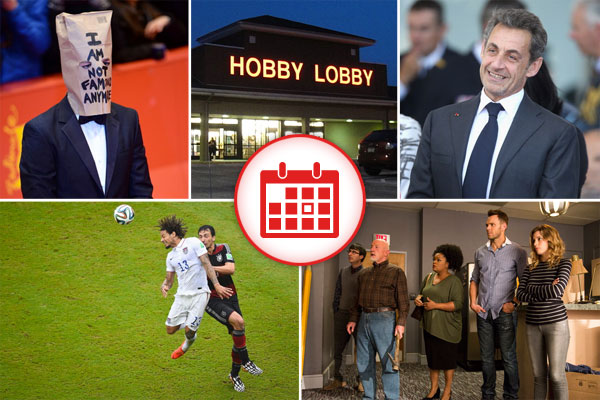 1. Yahoo Saves Us All From Having To Hear Comedy Nerds Bitch About 'Community' Getting Cancelled, For At Least A Little While
Lo and behold, it turns out that if you complain and complain and complain incessantly enough, you can sometimes actually get what you want, even if that thing really isn't all that important. Case in point: Yahoo has announced that it is picking up the recently cancelled cult (read as: not particularly popular outside of a small group of extremely vocal obsessives) sit-com Community for a 6th season. Yahoo's logic is that this will most likely quiet them down, at least until it comes time for them to begin rioting for a 7th season.
Season 6 of Community will air on Yahoo. Season 7 will be heard on CB radios, and season 8 will be told orally around a campfire in Africa.

— Nick Youssef (@NickYoussef) June 30, 2014

2. Don't Worry, Ladies — Hobby Lobby Still Covers Your Grandfather's Boner Pills
U.S. women who are concerned that the Supreme Court's recent Burwell v. Hobby Lobby decision will negatively impact citizens' abilities to get their birth control and sex-related medications covered by their work insurance policies should take heart: Hobby Lobby is still happy to cover vasectomies and viagra pills for its non-vagina-having employees. So, you should sleep comfortably in the knowledge that your elderly male supervisors may continue boning their mistresses in peace. John Oliver offers some perspective:
My irrational anger at Hobby Lobby is interfering with my ability to masturbate to crafting shows.

— Adam Wilson (@theleanover) July 1, 2014

3. Can The U.S. World Cup Team Live Up To Its Recent Triumphant Tie and Loss?
The pressure is on the U.S. soccer team to somehow live up to the recent triumphs—a tie with Portugal and a loss to Germany— that allowed them to advance this far in the World Cup. The question is: Can they pull off a tie or a loss to Belgium today to keep their streak going? Only time will tell.
WORLD CUP CHEERING TIP FOR U.S. FANS: Refer to the Belgium socc-ball team as the BELCH-um team, so as to disparage them. #humor #burn #USA

— Rex Huppke (@RexHuppke) July 1, 2014

4. Nicolas Sarkozy Detained By Anti-Corruption Police Who Apparently Aren't Currently Accepting Bribes
Nicolas Sarkozy has been detained and is being questioned by financial investigators as part of a corruption probe. Though the conservative former French president—who is expected to mount a reelection campaign for 2017—has not been convicted of any crimes, he does have the distinction of being the country's first ex-head of state to be taken into police custody, thus proving that he is truly a transformative politician.
Complaining about "corruption of the political process" is like complaining about "contamination of the cesspool tank."

— Mojave Phone Booth (@MojaveFoneBooth) May 17, 2014

5. Shia LaBeouf Is Now In The 'Checking Into Rehab' Phase Of His Attention-Seeking Crusade
Troubled actor Shia LaBeouf has reportedly checked himself into rehab, which ought be good for at least a few days worth of headlines.
Shia LaBeouf was seen checking into rehab with an AA book in hand. Step 9, apologizing to the entire cast of Cabaret, should take a while.

— Warren Holstein (@WarrenHolstein) July 1, 2014
(by Dennis DiClaudio)