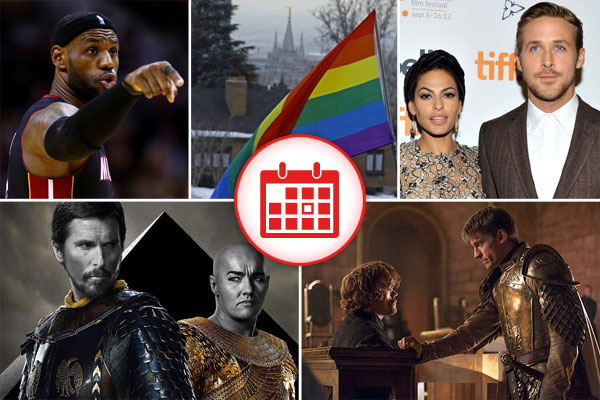 1. 'Game Of Thrones' Slashes A Bloody Swath Of Gore Through Emmy Competition — Racks Up 19 Nominations
Game of Thrones—everybody's favorite outlet for crushing misery and unnecessary nudity—dominates this year's Emmy announcements with 19 nominations, including Best Drama Series, Best Supporting Actor in a Drama Series (Peter Dinklage) and Best Supporting Actress in a Drama Series (Lena Headey). Sadly, the Emmy board still fails to acknowledge Best Eye-Gouging-Out Scene in a Drama Series or they could have had an even 20.
cannot BELIEVE my Skype session with parents last month where I convinced them I have a job and girlfriend didn't get an Emmy nom!

— Matt Oswalt (@Puddinstrip) July 10, 2014

2. Utah To Fight All The Way To The Supreme Court For Its Right To Hate Gay People
Intent on maintaining its position as the state most intolerant to oppressed minorities, Utah is planning to appeal to SCOTUS after a federal appeals court decided that its ban on gay marriage was unconstitutional. This way, after the Supreme Court rules on the case, the title Utah vs. Human Decency can be immortalized in U.S. law books forever more. 
BREAKING: Utah to appeal directly to Supreme Court for permission to continue denying gay people the rights that straight people enjoy.

— Top Conservative Cat (@TeaPartyCat) July 9, 2014

3. LeBron James To Sign With The Cavaliers Unless He Re-Signs With The Heat Unless He Signs With Some Other Team
According to the latest speculations, the much-sought-after free-agent NBA MVP LeBron James is on the verge of turning the league upside down by signing with the Cleveland Cavaliers, while also being on the verge of setting the sport ablaze by re-signing with the Miami Heat. He's also on the verge of exploding the game, upending basketball as we know it and demolishing all expectations by signing with another dozen or so teams. 
I can't imagine what Lebron is going through. I couldn't even decide what kind of soup to get for lunch today.

— Michelle Wolf (@michelleisawolf) July 10, 2014

4. Christian Bale Stars As Beloved Orphan-Turned-Crusader Character From Classic Superhero Book
Movie fans are finally getting the chance to be unnerved and disappointed with their first look at Christian Bale as Moses in Ridley Scott's upcoming Bible epic Exodus: Gods and Kings in this newly released trailer.
"starring christian bale as moses" will never stop being a preposterous sentence

— Dan (@queerly_it_is) July 8, 2014

5. Person Every Man Wants To Sleep With Is Having A Baby With Eva Mendes
Sorry, heterosexual men everywhere, but you know that one man you would gladly allow to impregnate you if only nature would allow it? He's impregnated somebody else. And to make matters worse, she's just a regular old human woman. Eva Mendes will have the honor of giving birth to Ryan Gosling's son in about two months. It's not fair!
Eva Mendes knew she was pregnant because when she took her pregnancy test Ryan Gosling's eyes turned a more magnificent shade of blue

— Eliza Bayne (@ElizaBayne) July 9, 2014

(by Dennis DiClaudio)