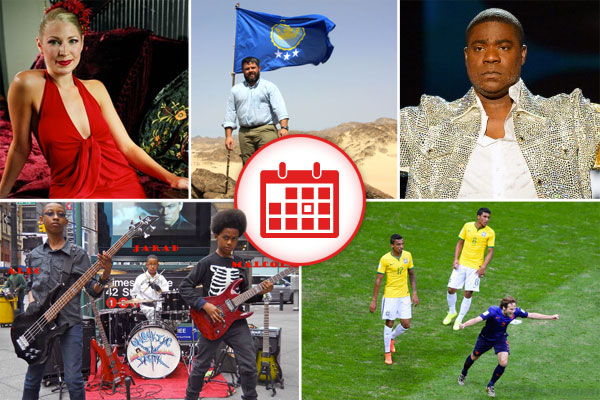 1. Tracy Morgan Released From Rehab, Sets His Mind-Grapes On Suing Walmart
Five weeks after being badly injured in a automotive accident that left one member of his entourage dead, comedian Tracy Morgan is finally being released from a rehabilitation facility and is heading home, where, according to his publicist, he "will continue his recovery efforts at home with an aggressive outpatient program." Morgan has announced that he is suing Walmart—the owner of the truck that hit his tour bus—claiming that they should not have allowed a sleep-deprived driver to drive their vehicle.
I'm gonna shop at Wal-Mart a lot more once Tracy Morgan owns it. #LibCrib http://t.co/vT3Cnn3Diw

— J R Levesque (@Enernoj) July 12, 2014

2. Brazil Proves To World That Its Humiliating Loss Was More Than A Fluke
In an effort to show naysayers that their staggeringly embarrassing 7-1 loss to Germany in the World Cup semi-finals was no mere happenstance, Brazil's hosting soccer team laid down a scoreless loss to the Netherlands in yesterday's third-place match, thus proving that they can be defeated by whatever team they set their mind to losing to.
Brazil just changed its national anthem to a funeral dirge. #BRAvsNED

— shauna (@goldengateblond) July 12, 2014

3. Teenage Metal Band Lands $1.7 Million Record Deal Despite Not Sucking
Unlocking the Truth—a heavy metal trio of black, teenage musicians that made their names busking around New York City—has signed a $1.7 million two-record deal with Sony, even though they clearly have an amazing amount of musical talent and a genuine love for the metal music genre. The massive media conglomerate clearly believes that they can suck all vibrance from the band, given the right production and guidance.
I named my new death metal band after the scariest thing I could think of. We're called Mom Selfie.

— Timmy Williams (@timmyisanerd) June 30, 2014

4. Study: Women Don't Like Trashy Ho-Bags In Red Dresses Who Think They're All That When Really They're Not, Ugh!
According to new research headed by a University of Rochester psychologist, women are more likely to feel threatened by other women if they're wearing red clothing, apparently feeling "as if these other women are actively advertising" their sexuality. To counteract such feelings and make peers feel more at ease, potentially attractive women are advised to take off their red dresses when in public.
Everyone on the Real Housewives owns a red "business" dress.

— albertina rizzo (@albz) August 5, 2013

5. Virginia Dad Continues Proud White Person Tradition Of Claiming Land In Africa As His Own
A Virginia man has traveled to the Sudanese border to claim an 800-square-mile section of the African desert as his own, so that his 6-year-old daughter can be named princess of The Kingdom of North Sudan. "I founded the nation in love for my daughter," Jeremiah Heaton says.
Apparently when imperialism is an "act of love" for a daughter who wants to be "a real princess" it's ok. Jeez. http://t.co/fGXy4jcZmK

— Alice Bell (@alicebell) July 13, 2014
(by Dennis DiClaudio)