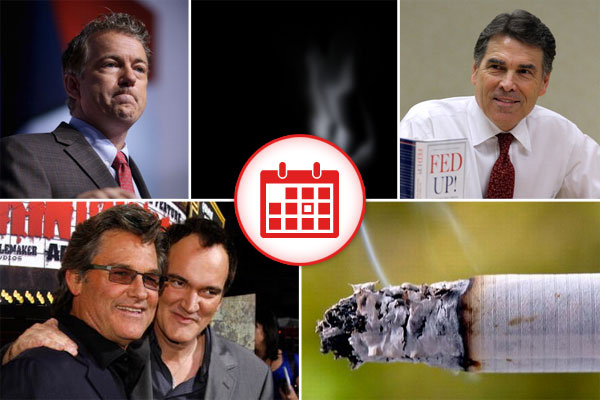 1. Cigarette Companies Merge To Create Enormous $27 Billion Smoke Golem Of Death 
Cigarette manufacturers Reynolds American and Lorillard have announced that they are joining together in a $27 billion merger to create a tobacco company capable of engaging in fierce battle with Marlboro on the smoking peaks of Mount Cancer.
Smoking cigarettes also greatly increases the risks of looking super cool.

— Clarke Kant (@clarkekant) June 20, 2014

2. Rand Paul and Rick Perry Begin Pummeling Each In The Press In Preparation Of GOP Primary Season
Several months ahead of schedule, Republican presidential hopefuls Sen. Rand Paul and Gov. Rick Perry have begun waging war in the press over U.S. foreign policy and other issues that neither fully understand. Somewhere, in a darkened office, Hillary Clinton laughs softly.
rick perry just announced that he plans to "lose the shit out of" the 2016 presidential election.

— blaine capatch (@blainecapatch) July 8, 2014

3. Californians To Vote On Adding Five More, Even-Shittier Californias To National Map
In the 2016 election, California voters will have the opportunity to vote on splitting their state up into six smaller states, presumably so that they will be able to more easily slip into the Pacific Ocean once the water levels rise in the coming years.
The bid to split California into six states is fine but we really need 50 chickens in every pot and a thousand cars in every garage.

— James Adomian (@JAdomian) April 8, 2014

4. Movie That Quentin Tarantino Vows Never To Film Begins Filming Next Year
During an interview with Fox's Good Day Philly, actor Kurt Russell spilled the beans on what could be Quentin Tarantino's next film, The Hateful Eight, which was originally cancelled after the script leaked online. "I've got a Tarantino project called The Hateful Eight that looks like it may go somewhere around the beginning of the year," Russell said of the movie that will now probably get cancelled again.
Pretty much any Tarantino move could be called "The Hateful Eight." That might just be a custom template he created in Final Draft.

— Christine Nangle (@nanglish) January 24, 2014

5. Scientists Create Blackness Even Blacker Than Your Ex's Heart
Using carbon nanotubes, British scientists have successfully created a shade of black so dark that it absorbs more than 99% of visual light, making it practically invisible to the human eye. Now, if only they could remember where they left it. 
Blackest is the new black: Scientists develop a material so dark that you can't see it... http://t.co/en5w52aetC GIVE MEEEEEEE

— maria sherman (@mariasherm) July 15, 2014

(by Dennis DiClaudio)