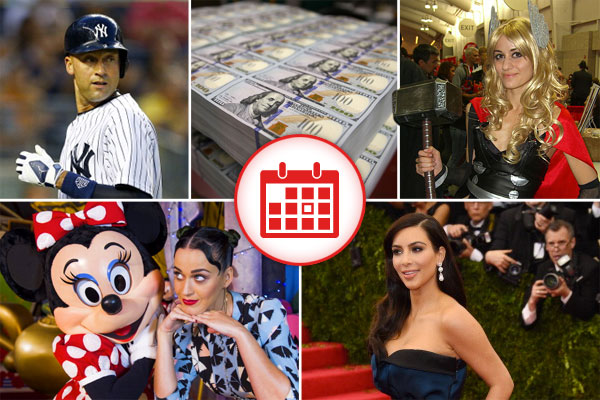 1. Dark Days Continue For Bigoted Nerds — Marvel Announces New Thor Will Have Weird Lady Parts
It's been a rough couple years for pasty white comic-book dorks who get enraged at the thought that the world of nerddom might not revolve around their pasty white asses. First, they had to deal with a half-black/half-Latino Spider-man. Then came the Muslim Ms. Marvel and the all-woman X-Men team. Now, their beloved God of Thunder is going to have prominent boobs. Marvel announced yesterday on The View yesterday that, for the first time ever, a woman will wield Thor's mighty hammer Mjolnir. The same one that was once carried by an alien horse named Beta Ray Bill.
"Excuse me, my hammer is UP HERE." - Female Thor

— Eliza Bayne (@ElizaBayne) July 15, 2014

2. Was Derek Jeter's Completely Worthless All-Star-Game Double Somehow Tainted?
Some people think that sports statisticians (the ones who actually care about the events of the totally unimportant and barely watchable annual MLB All-Star games, at least) might have to place an asterisk next to N.Y. Yankee Derek Jeter's two-for-two hitting game last night, after St. Louis Cardinals pitcher Adam Wainwright joked (maybe) that he was going easy on the soon-to-be-retiring Hall-of-Fame shoo-in. "I was going to give him a couple of pipe shots. He deserved it," Wainwright said, before later claiming he was joking and stating erroneously that "this game means something."
I know it's the rules, it just doesn't seem fair that Derek Jeter has to be taken behind Yankee Stadium and shot when he retires. #RE2PECT

— Krister Johnson (@KristerJohnson) July 16, 2014

3. Extremely Rich People Might Be Even More Extremely Rich Than We Thought
While it has been generally assumed that the nation's richest 1 percent was in possession of 30 percent of all the national wealth, that estimate is likely off, according to a new report. The actual number may be as high as 35 or 37 percent. "Our results clearly indicate that survey wealthy estimates are very likely to underestimate wealth at the top," economist Philip Vermeulen explained. The upside is that they're still letting the rest of us split the remaining 63 percent between the 310 million of us. For now.
Plan A: Get rich. Plan B: Hate rich people.

— Tim Siedell (@badbanana) June 9, 2014

4. Terrifying Celebrity Stalkers Really Stepping Up Their Terrifying Game Lately
No longer content with merely lurking ominously on shadowy street corners outside the homes of the objects of their delusions, some celebrity stalkers are pushing forward into scarier, more-overlty criminal behavior. Sandra Bullock's stalker recently made it all the way to the outside of the Oscar-winning actress's bedroom door before police were alerted, and another somewhat-more-confused stalker broke into the Kennedy compound in Massachusetts looking for pop singer Katy Perry.
Say what you will about celebrity stalkers, they do not lack for self-esteem.

— Liam McEneaney (@HeyItsLiam) October 18, 2013

5. Kim Kardashian Now Comes In App Form
In one of the most depressingly ingenious moves in recent years, gaming company Glu Mobile decided to rebrand its already-moderately successful smartphone game Stardom Hollywood as Kim Kardashian: Hollywood, while adding in some pictures of the game's new namesake professional famous person. The new-and-Kardashian-approved version of the free-to-download app is expected to pull in about $200 million annually from advertising and in-app purchases.
I can't download the Kim Kardashian app because I will 100 percent spend money on it. Being an addict means knowing your limits.

— Louis Peitzman (@LouisPeitzman) July 11, 2014

(by Dennis DiClaudio)