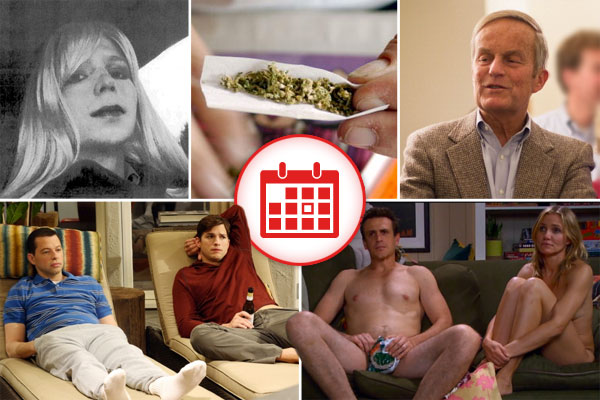 1. Todd Akin Clarifies His 'Legitimate Rape' Comment, Entire World Unanimously Forgives Him
Hey, everyone! We can all relax with the hating on former Rep. Todd Akin thing. Turns out he misspoke when he said that "If it's a legitimate rape, the female body has ways to try to shut that whole thing down." What he meant to say was "legitimate case of rape." Oh! Well, that's much less silly and delusional. The addition of those two words make all the difference.
I hope Todd Akin gets a legitimate kick to the nuts.

— Jamie Kilstein (@jamiekilstein) July 17, 2014

2. Chelsea Manning's Scheme To Get Herself Put In Prison Forever So As To Force Government To Pay For Her Gender Treatment Is Finally Paying Off
It would appear as though Chelsea Manning—who is currently serving a 35-year sentence for passing privileged information to Wikileaks— will be receiving state-funded gender treatment during her stay in military custody. "I am hopeful that when the Army says it will start a 'rudimentary level' of treatment that this means hormone replacement therapy," Manning's lawyer has said. Well, well, well... Looks like somebody's ingenious plan to bilk the American taxpayer is finally coming to fruition.
We can't turn a blind eye to war crimes. Said Chelsea Manning. From a prison cell somewhere.

— John Fugelsang (@JohnFugelsang) September 5, 2013

3. 'Sex Tape' Getting Surprisingly Poor Reviews For A Film That Is Selling Itself Entirely On The Premise That You Might Get To See Cameron Diaz's Ass 
When the promotional campaign for a film revolves nearly 100 percent around the promise that you will get to see its star naked it's usually indicative of two things: 1) You will not get to see that actor naked, and 2) you might not be in for the most top-notch cinematic experience. While, the jury's still out on that first part, it seems the second one is holding true. Sex Tape, starring (by all accounts) Cameron Diaz's butt, currently holds a 19 percent rating on Rotten Tomatoes and is receiving near-unanimous poor reviews from top critics.
WARNING: Sex Tape is just a remake of Jurassic Park

— Hampton Blart (@Hamptonyount) July 14, 2014

4. Pot Makes You Paranoid, Say Researchers Who Somehow Know What You're Feeling
According to new research from shadowy figures in the far-off land of Great Britain, the chemicals in marijuana do in fact cause paranoia in people who ingest them. But we knew that already, didn't we? I thought we did? Did we actually know anything? Is there even anything to know, or is this all just the fevered dream of a brain in a jar? Oh my God, I can't breathe. I think I'd be suffocating if I actually had any lungs.
My neighbors are smoking pot I'm gonna run over their with a chainsaw and cut their legs off I bet you they get so paranoid

— AmberTozer (@AmberTozer) April 20, 2014

5. In Final Season, 'Two And A Half Men' To Get Close To The Edge Of What Might Be Considered Edgy
The two straight men at the heart of CBS's long-running sit-com Two and a Half Men will reportedly be marrying each other in the twelfth and final season of the show. Ashton Kutcher's character apparently "wants to find a way to add more meaning to his life, so he decides he wants to adopt a child and in doing so, he starts the process and realizes that it's very difficult to adopt a child as a single, straight man," a CBS executive explained. This, more than anything, should answer your question about how controversial gay marriage is nowadays.
it's hard to believe "two and a half men" will be off the air after twelve seasons without me ever giving a shit.

— blaine capatch (@blainecapatch) May 14, 2014

(by Dennis DiClaudio)