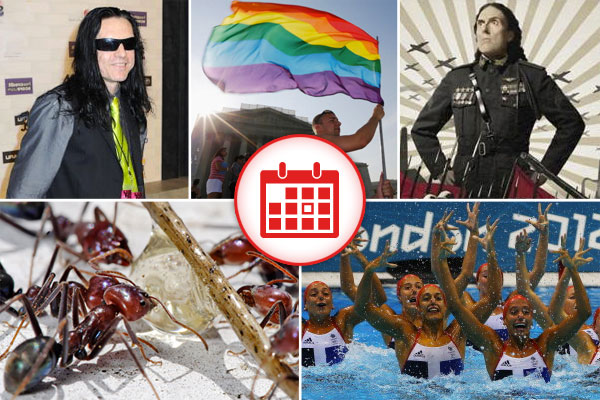 1. Weird Al's New Album Skyrockets To #1, As Entire World Simultaneously Forgets He's A Huge Dork
Bouyed in part by an eight-day, eight-video roll-out promo stunt, Weird Al Yankovic's new album Mandatory Fun seems on track to debut at No. 1 on Billboard's 200 Chart, a first for the accordion-playing parodist who first received exposure through Dr. Demento's absurdist radio program in the mid-70s. This means that Weird Al's novelty songs are now more popular and cooler than the pop hits they're making fun of.
Told someone that I didn't care for the new Weird Al song, and 3 nuns beat the tar out of me with accordions.

— CJ Sullivan (@CJSullivan_) July 18, 2014
This Weird Al stuff is bittersweet. So cool to see him on top. Lame I don't know a single song he's parodying.

— ⚡David Angelo⚡ (@MrDavidAngelo) July 17, 2014

2. U.S. Supreme Court Tells Gay Utahns To Stop Being Married For A While
More than a thousand same-sex marriages are currently in limbo, after the U.S. Supreme Court put a halt on their benefits until a state appeal to the 10th Circuit Court of Appeals is completed.
You ever see yourself in a dumb outfit from 15 years ago and say 'what was I thinking?' That's how people against gay marriage will feel.

— mark normand (@marknorm) July 18, 2014

3. Welcome Your New Insect Overlords! — Research Ants Pretty Much Rule The Earth
According to some entomologists, ants are among a few select species who could potentially be considered the true rulers of this planet. Not only do they outnumber people by orders of magnitude, but their combined biomass massively exceeds that of the human race. On top of that, the only thing stopping them from swarming over and devouring us is a current lack of desire to do so.
Movie trivia: Humphrey Bogart wasn't even in the movie Casablanca. The part of Rick was played by a sack of ants.

— John Moe (@johnmoe) June 9, 2014

4. New Olympic Sports Channel Promises Year-Round Access To Synchronized Swimming Competitions
Olympic officials are apparently backing a proposal for a year-round sports channel to focus exclusively on sports like high diving, javelin throwing and long distance running, in an effort to connect with younger viewers who have yet to figure out how much less interesting those sporting events are when they happen more than once every 48 months.
I just came up with a new Olympic sport where a bunch of people ride around on bikes and shoot at each other with bows and arrows.

— tyler (@coolsexguy) June 22, 2014

5.  We Got The Results Of The Test Back — We Definitely Have A New Tommy Wiseau TV Show Coming Soon
Tommy Wiseau—mysterious and delightfully delusional creator of the cult film The Room—seems like he's finally set to release The Neighbors, a television series he's been teasing for the past ten years. And if this recently released underwear and football-filled scene is any indication of what's in store, I think Wiseau will be tearing all our wildest expectations apart:

(via TheNeighborsSitcom.com)
Fans of The Room. Lemme know if you'd be interested in a Wiseau themed coffee place called "Oh, Chai Mark"

— Thomas Lennon (@thomaslennon) February 24, 2014

(by Dennis DiClaudio)