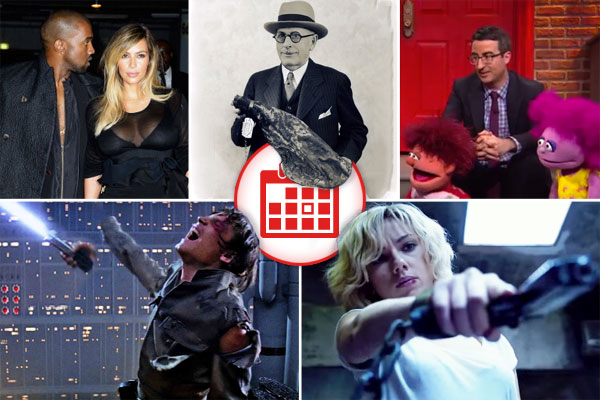 1. New 'Star Wars' Might Be All About Luke Skywalker's Severed Hand — Still Better Than Whatever The Hell Those Prequels Were About
[Potential spoilers] According to Internet rumors—ones that are supposedly pretty well-sourced, for whatever that's worth—the events of the new, highly anticipated Star Wars trilogy will begin with the discovery of Luke Skywalker's lightsaber-grasping hand, which has apparently spent several decades falling through space after being severed from its arm by Darth Vader in the final moments of The Empire Strikes Back. That may sound a bit odd, but not every movie can be about the labyrinthine political fallout from a complex trade embargo. 
And now, for no other reason than it's pretty cool, here's J.J. Abrams and an actual X-Wing fighter. Somewhere, George Lucas is crying a solitary CGI tear:
What if the Star Wars movies are a dream that Harrison Ford's character had while he was in a coma in Regarding Henry

— Adam Wilson (@theleanover) July 18, 2014

2. Baby's First Body Double — Kanye West And Kim Kardashian Spend $500K To Shield Their Kid From The Paparazzi 
Kanye West and Kim Kardashian are reportedly spending half-a-million dollars to secure a look-alike baby to impersonate their one-year-old daughter North in the hopes that it "will really throw paps off the scent." Apparently, they're hoping that the child can have somewhat of a normal childhood.
Kim Kardashian defended her parenting skills to critics on Twitter saying she is a devoted parent to both her children, North and Kanye.

— Michelle Wolf (@michelleisawolf) December 1, 2013

3. Science: People Who Think Humans Only Use 10 Percent Of Their Brains Are Not Fully Utilizing Their Brains
Though the idea that people only use one-tenth of their brain capacity is commonly believed—and currently the central conceit of the new Scarlett Johansson movie Lucy—there's really no evidence to believe such a thing. It's not entirely clear how this myth took root in our culture, but it was probably started more than a century ago by psychologist William James, while only using a small fraction of his available intelligence.
Life can be tough, but I keep telling myself... "If Scarlett Johansson can use more than 10% of her brain, ANYTHING is possible!"

— David R Jennings (@Bauart) July 21, 2014

4. John Oliver And Some Very Sad Off-Brand Muppets Show How The U.S. Prison System Is Broken
On last night's Last Week Tonight, John Oliver got a little help from some adorable little puppets to teach American children a valuable lesson: Why there's a pretty decent chance they're gonna end up in prison one day:
Just figured out how to fix the prison system while staring at myself in the mirror. Vanity works, people.

— Dick Wolf (@ericdadourian) June 28, 2014

5. 112-Year-Old Ham Is Technically Edible, Much Like That Hotdog You Bought At The Corner Store At 2am On Friday Night 
The Isle of Wight County Museum in Smithfield, Virginia is celebrating the 112th birthday of a beloved cured ham, which they claim is still edible. "You could probably still eat the darn thing," the granddaughter of the shriveled slab of meat bragged to a reporter. Weird. I could have sworn that some restaurant chain had that as its slogan.
Ham is beef's weird cousin.

— Josh Gondelman (@joshgondelman) July 11, 2014

(by Dennis DiClaudio)