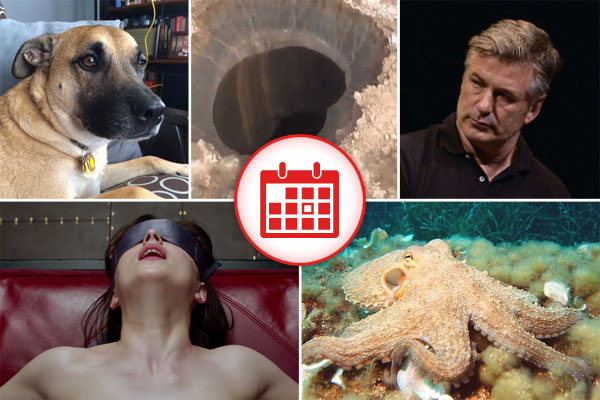 1. Alec Baldwin Promises Judge He'll "Be A Good Boy From Now On" In One Of The Less-Infantilizing Moments Of His Life
During a court appearance for that bizarre bicycle-related screamfest that got him arrested in New York City a few months back, actor Alec Baldwin was forced by a Manhattan Criminal Court judge to "be a good boy from now on." This may seem like a tough thing for a 56-year-old man to endure, but really he was just happy for the attention.
I bet a lot of people have been woken up to the sound of Alec Baldwin yelling.

— Jenny Johnson (@JennyJohnsonHi5) June 14, 2014

2. The '50 Shades Of Grey' Trailer Is Finally Here For Your Mom's Masturbating Pleasure 
So, you might not want to watch this new trailer for the upcoming film adaptation—starring Dakota Johnson and Jamie Dornan—of that best-selling book your mom keeps reading over and over again, because now you're gonna know exactly what was going through her head while she was sitting next to you on the couch.
I'd watch the 50 Shades trailer but I'm a little tied up right now.

— David Waghalter (@dwaghalter) July 24, 2014

3. Turns Out Octopi Are Into Some Really Freaky Tentacle Sex 
According to recent research, that happy little octopus with all those cute waving arms at the local aquarium is into some really dark shit in the bedroom. A new paper published in Molluscan Research explains how strangulation and cannibalism are regularly incorporated into octopi's mating rituals.
Now see if you can eat noodles without thinking about an octopus sex party.

— G.T. Collins (@fleshcake) August 2, 2012

4. Second Hole Opens Up In Russian Landscape, Promising Twice As Many Kaiju Monsters From Bowels Of Earth
Remember that enormous charred hole that opened up in the earth in some godforsaken corner of Russia? Good news! Now there's two! So, it would appear as though Armageddon is really speeding up. Which is kind of good news. Any chance it'll get here before the 50 Shades of Grey movie opens? Fingers crossed. 
Putting a firecracker in your mouth to replicate a kaiju's atomic breath is not advised. Repeat: not advised http://t.co/Cqs4di7rlm

— Ed Yong (@edyong209) October 10, 2013

5. Your Dog Is Just As Much Of A Jealous Asshole As You Are 
The newly released results of a recent study make what we've all known for a long time official: Your dog is capable of being just as much of an obnoxious, self-centered jerk as you are. Makes you feel like the entire animal kingdom is bound together in a shared assholeishness.
Why does your dog look jealous when I lick peanut butter off your balls? Do you even feed him?

— notyourjester (@Loli_Sug) August 3, 2013

(by Dennis DiClaudio)