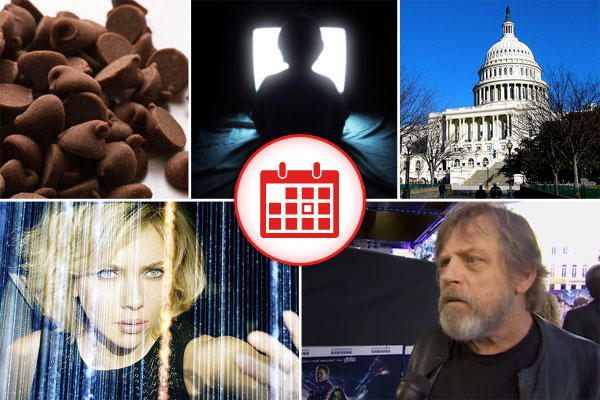 1. Wikipedia Bans U.S. Congress From Screwing With Articles The Way It Screws With People
Following the creation of @congressedits—a Twitter feed that catalogues all changes made to Wikipedia articles that come from the U.S. House of Representatives' ISP address—administrators of the online public-sourced encyclopedia have instituted a 10-day ban on the national lawmaking body's ability to contribute to the website.
That anonymous Congressional Choco Taco Wikipedia edit (https://t.co/WG5xyCa41T) was to clarify that it's American. pic.twitter.com/F4hlKaUB2v

— Joe Veix (@joeveix) July 23, 2014

2. Now This Whole Global Warming Thing Has Gone Too Far — Chocolate Prices To Rise A Few Percentage Points
Hershey's and Mars—two of the world's leading manufacturers of chocolate—have announced that they are raising the prices of their products by 8 and 7 percent, respectively, due to the rising costs of cocoa beans brought on by global warming. Well, we probably needed a tragedy like this to make average Americans take notice of anthropogenic climate change.
Chocolate prices are rising due to a cocoa bean shortage and because they finally figured out lonely women will pay anything

— Michelle Wolf (@michelleisawolf) September 29, 2013

3. Luc Besson's 'Lucy' Utilizes 99 Percent Of Its Potential Craziness
Though it's only scoring a 61 percent rating on Rotten Tomatoes at present, something approaching 100 percent of all critics agree that the Luc Besson-directed Scarlett Johansson vehicle is propulsively insane and never boring. According to Salon's Andrew O'Hehir: "Does it make sense? Not at all. Is it boring? Not that either."
Best part of the movie Lucy is when she yanks the football away from Charlie Brown using only her mind.

— John Moe (@johnmoe) July 25, 2014

4. Luke Skywalker Will Have A Beard, And Other Things We'll Count As News Since We're So Excited About The New 'Star Wars'
While appearing at the UK premiere of Guardians of the Galaxy, actor Mark Hamill opened up about how excited he is to be stepping back into the guise of Luke Skywalker after three decades. "It was certainly unexpected. I already had a beginning, middle and end. I never thought we'd come back," Hamill told the BBC. "To go on to those sets that evoked so many memories. It is just astonishing... We are just there to lend our support and grow contractually obligated beards," Hamill explained.
Okay, so turns out "Mark Hamill has a beard in Episode VII" is the where I stop being excited about "Star Wars" news.

— Alex Zalben (@azalben) June 7, 2014

5. Study: Sitting On The Couch And Watching TV Like A Fat Blob Is Not Great For Your Self-Esteem
Some groundbreaking German and Dutch researchers have discovered that people who plant themselves in front of their televisions to watch reality television immediately after getting home from work tend not to feel as good about themselves as people who opt against placing themselves in a state of catatonia for several hours at the end of their day.
My earliest memory is of me watching TV a year ago.

— calehartmann (@calehartmann) July 21, 2014

(by Dennis DiClaudio)