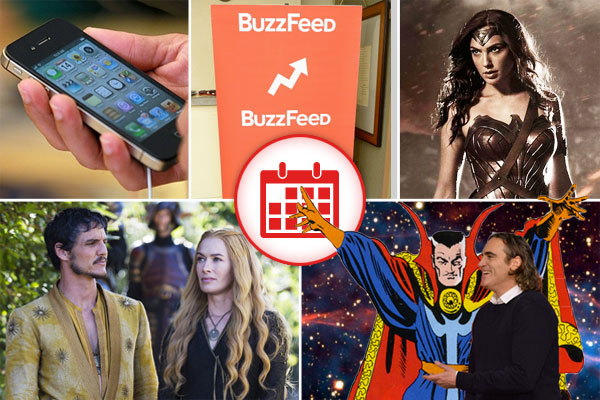 1. BuzzFeed Fires Its Viral Politics Editor For Not Holding Up Site's Rigorous Standards Of Originality
BuzzFeed announced that it has fired its Viral Politics editor Benny Johnson after discovering "41 instances of sentences or phrases copied word for word from other sites" without attribution, the site's editor-in-chief Ben Smith stated in editor's note yesterday. The decision was presumably a difficult one, and could just as easily have entailed a promotion and raise.
Against my wishes, I now know the name of a Buzzfeed person

— Erik Tanouye (@toyns) July 26, 2014

2. 'Batman vs. Superman' Director Reveals The New Xena: Warrior Prin— Er, I Mean Wonder Woman
Immediately after participating in a panel discussion on the upcoming DC superhero crossover film Batman vs. Superman: Dawn of Justice, filmmaker Zach Snyder tweeted out an incredibly underwhelming image of Gal Gadot as she will appear as Wonder Woman in the film. It is unclear whether this is the final costume design, or if they're still working on ways to make it more generic. 
— ZackSnyder (@ZackSnyder) July 26, 2014
I keep forgetting that Superman, Batman, and Wonder Woman are all entirely gray and brown.

— Daniel Kibblesmith (@kibblesmith) July 26, 2014

3. Congress Passes Bill That Allows People To Do What They Want With Their Stuff
A bill which allows you to unlock your cell phone from and use it with whatever wireless provider you choose—almost as though it were your own private property that you paid for with your own money—has now passed both houses of the U.S. Congress and is awaiting the President's signature.
"I finally got an iPhone but life remained unchanged." -my suicide note

— Sofiya Alexandra (@TheSofiya) July 26, 2014

4. HBO Unveils A Whole Bunch Of New 'Game Of Thrones' Characters Who Will Probably All Be Dead By The End Of Next Season
In a newly released promotional video, the creators of HBO's Game of Thrones fantasy television series have revealed a large chunk of the new cast members that fans will be falling in love with—and subsequently mournings the disturbingly violent deaths of—in the show's fifth season next year.
Just took the "Which Game of Thrones Character Are You?" Quiz on Showtime's website. Winds up I'm Nurse Jackie.

— Mike Spiegelman (@Spiegelmania) July 6, 2014

5. Would Joaquin Phoenix Make Doctor Strange Seem Too Weird?
Academy Award-nominated actor Joaquin Phoenix is reportedly in consideration to play cosmic sorcerer Doctor Strange—protector of Earth against all threats, either magical or mystical in origin—in an upcoming cinematic adaptation of the character's cult Marvel comic book series. You've got to wonder, though, if the idiosyncratic actor wouldn't be bringing something a little too otherworldly for the a role like this.
Joaquin Phoenix is maybe Doctor Strange and Scarlett Johansson is Black Widow! ::breaks hands trying to edit "Her" into fake trailer::

— Alex Zalben (@azalben) July 25, 2014

(by Dennis DiClaudio)