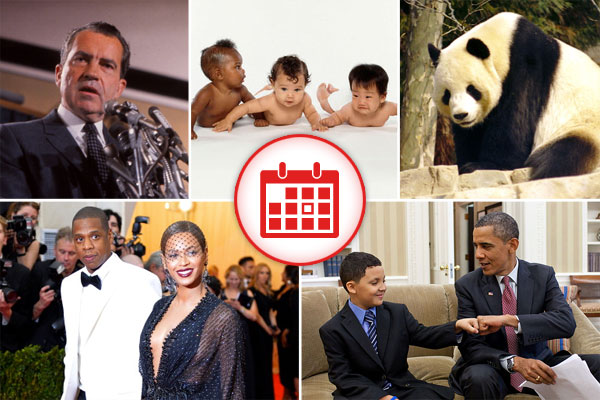 1. The Bad News: True Love Is Dead — The Good News: Beyoncé Might Be Back On The Market!
Amidst recent rumors that music power couple Beyoncé Knowles and Jay-Z are on the outs comes news that Knowles is looking around Manhattan for a new place to lay her perfectly structured head. It is currently unknown which of the two cultural icons will receive custody of the American populace.
Ultimately, the most important crisis in the world right now is whether or not Jay-Z and Beyonce are doing well.

— Sara Benincasa (@SaraJBenincasa) July 24, 2014

2. Richard Nixon Probably More Obsessed With Pandas Boning Than Any Other U.S. President
It's impossible to say with absolute certainty whether or not President Richard Nixon was more concerned with pandas' understanding of the birds and the bees than other sitting Chief Executives. But he is the only one that we have recorded evidence of discussing such blue matters. The 37th President can be heard opining to the foreign editor of The Washington Star on one of his many archival tapes that, "The problem... with pandas is that they don't know how to mate. The only way they learn how is to watch other pandas mate." 
I'm similar to a panda in that I'm generally alone and have lost interest in sex. And you thought I was gonna say I have two black eyes.

— Giselle (@letsgetgizzy) May 29, 2011

3. Government Shutdown Baby Boom — D.C. Residents Were Busy Screwing Each Other While Congress Was Screwing Them
In October of 2013, the U.S. Congress shut down the government after being unable to reach a bipartisan decision concerning funds for the 2014 fiscal year. Now, nine months later, we're seeing a 33 percent increase in births. So, turns out Congress accomplished something after all. And these children will grow up knowing that they have our legislative system's extreme dysfunction to thank for their existence. 
Best thing about the government shutdown? Government shutdown sex.

— Miles Kahn (@mileskahn) September 30, 2013

4. Running For A Few Minutes A Day Could Save Your Life If You Did It Which You Won't
According to a 15-year study of more than 55,000 adults, if you were to start running for just a few minutes every day, your risk of dying from cardiovascular disease would drop by 45 percent. Think about that tonight while you're on the couch, re-watching It's Always Sunny in Philadelphia on Netflix for the third time.
Jogging is only fun if you pretend that you're running away from the cops, or a fire you just started, or a teen pregnancy.

— Mark Leggett (@markleggett) June 21, 2014

5. Fist Bumps Found Considerably Less Effective At Spreading Our Fecal Matter To Acquaintances
Researchers have found that handshakes are 20 times more effective at spreading your bacteria to all the people you encounter throughout the day than fist bumps. Though, neither produce nearly the same results as twerking. 
Sometimes when someone tries to "fist bump" me I just throw up on them.

— rob delaney (@robdelaney) March 22, 2014

(by Dennis DiClaudio)