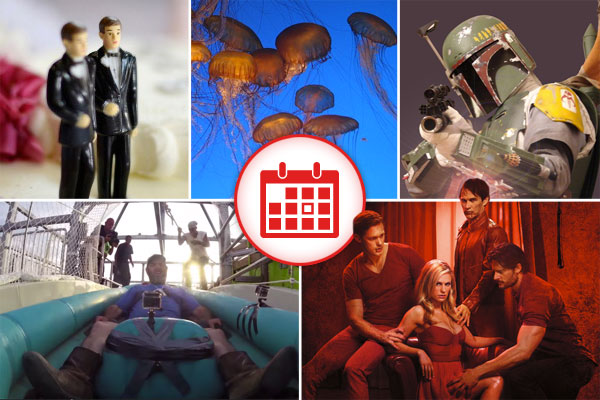 1. Beloved 'True Blood' Character Gets Appropriately Silly, Naked Death
[SPOILERS] People who are still bothering to watch True Blood in its seventh and final season suffered a crushing loss during last night's episode, when longtime series-regular Alcide the werewolf was shot while trying to protect his half-fairy girlfriend from a bunch of vampires with Hepatitis V. "I die naked in the woods with nothing but my sock on. Given Alcide's track record on the show, I was like, 'that's about right,'" actor Joe Manganiello explains wistfully.
I think I enjoy True Blood too much to qualify as a "smart person".

— Susan Burke (@ThatSusanBurke) July 1, 2014

2. Is Boba Fett Finally Getting The Movie He Never Actually Deserved?
Godzilla director Gareth Edwards has been chosen to helm the first of several Star Wars spin-off films. Many fans are speculating that the subject of the movie, set to hit theaters in 2016, will be none other than Boba Fett, the Mandalorian bounty hunter who transported Han Solo's already-catatonic body to Tatooine before being easily and accidentally dispatched by a blind man and falling into the mouth of a Sarlacc, in which he was slowly and painfully digested for over a thousand years. Temuera Morrison is rumored to be reprising his role as the character, who remains a fan favorite for obvious reasons.
I'm sorry--they're making a Boba Fett movie? THAT IS JUST A MOVIE ABOUT A HELMET.

— Lindy West (@thelindywest) May 22, 2014

3. Time For A National Ban On Straight Marriage — Study Shows Same-Sex Partners Raise Healthier Kids
The children of same-sex parents not only "demonstrate higher levels of family cohesion than population samples," but appear to display higher levels of "health and wellbeing" than their friends and classmates with straight parents, according to a new study that will be roundly ignored by anti-gay religious groups everywhere.
Largest ever study of same-sex parents was just released and it's scientifically proven to drive Pat Robertson insane http://t.co/M69d05yPos

— ThinkProgress (@thinkprogress) July 6, 2014

4. The Jellyfish Are Coming To Take Back Their Planet
According to recent reports from around the world, the global population of jellyfish is currently skyrocketing, due at least in part to changing sea water temperatures as the planet's climate continues to change. If this keeps up, within a few years, our oceans will become naught but a roiling tumble of glistening and undulating Pelagiidae. And that won't be nearly as pleasant as it sounds.
Screw you, Jellyfish! I'm already soaked in urine.

— Quinn Sutherland (@ReelQuinn) June 16, 2014

5. World's Tallest Water Slide Finds World's Bravest Man To Test It Out
The Schlitterbahn water park in Kansas City, Kansas is all set to unveil the Verrückt, the highest water slide in the world. At nearly 169 feet in the air, it is taller than either the Statue of Liberty and Niagara Falls. Here is footage of some crazy guy testing it out:
A fun response when someone asks how a relative died is to sadly explain that "tigers chased him down a water slide."

— Matt Roller (@rolldiggity) July 16, 2013

(by Dennis DiClaudio)