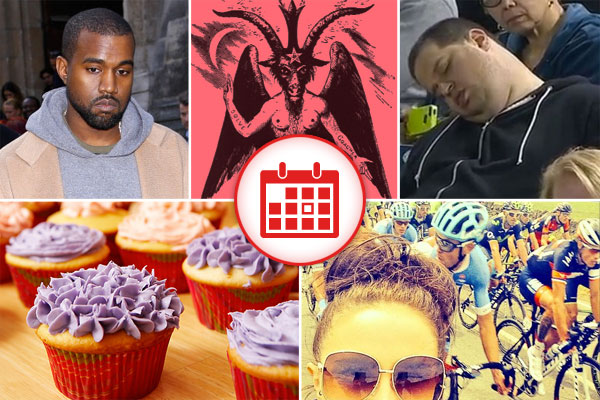 1. The Hottest New Craze: Taking A Picture Of Yourself Risking Human Lives At The Tour De France
Fueled in equal measures by excessive narcissism and an apparent desire to make long-distance bicycle riding somewhat interesting, people have been going crazy  taking Tour de France selfies. In case that needs clarification, that's pictures of themselves at a sporting event in which they are not active participants. All this to the extreme annoyance of the cyclists, who seem to to have their hands pretty full racing from France to Britain without also having to dodge self-obsessed idiots playing with their iPhones.
To avoid collision with the riders of #TDFSelfie I have decided to take #safeselfie! pic.twitter.com/TPSr6gTcGM

— Monsieur G (@_MonsieurG_) July 8, 2014

2. Ingrate Audience Members Unable To Appreciate Unparalled Genius Of Kanye West's 20-Minute Stream-Of-Consciousness Monologues
Kanye West was  booed by two separate audiences in London over the weekend after all of those unappreciative dummies failed to grasp the transformative brilliance that was the hip-hop mogul's long diatribes about how nobody appreciates him. "I'm not going to mention any names but... Nike, Louis Vuitton, and Gucci. Don't discriminate against me 'cause I'm a black man making music," West demanded at one point.
2020: The faces on Mount Rushmore are replaced with Kanye West, Grumpy Cat, Kermit drinking tea & the Kevin Hart "Oh hell no" face.

— Kyle Lippert (@Kyle_Lippert) July 7, 2014

3. Has America's Cupcake Bubble Finally Burst?
America's love affair with overpriced, super-fancy novelty baked goods appears to have finally come to its inevitable end. The New York-based Crumbs Bake Shop—famous for its decadently okay-enough cupcakes—announced yesterday that it would be shuttering all of its stores by the end of the day. Today, heartbroken consumers will simply have to indulge their sweet teeth by purchasing reasonably priced pastries pretty much anywhere else. 
Up next on Shark Tank: More god damn cupcakes!

— CJ Sullivan (@CJVLR) June 28, 2014

4. Oklahoma Satanists Achieve Goal Of Annoying Easily Annoyed Christians
The Oklahoma City mayor's office has reportedly received hundreds of irate emails and phone calls over an unholy black mass that is scheduled to be held in the basement of the city's Civic Center this upcoming Autumnal Equinox. The public space has apparently been rented out for the evening of September 21 to a group of procedure-following Satanists for $420.
Don't you hate when you get to a craigslist hook-up but really it's Satanists looking for a sacrifice? Anyway, I've got pentagrams to draw.

— Adam Wilson (@theleanover) June 14, 2013

5. Yankees Fan Wants $10 Million From ESPN For Filming Him Sleeping Through Game — A-Rod Would Be So Proud
Yankees fan Andrew Robert Rector is suing ESPN for $10 million after the sports network filmed him sleeping during a Yankees-Red Sox game, thus opening up the opportunity for people to make fun of him on the Internet. We're assuming that he will soon be suing his lawyer for helping him to sue ESPN, thus opening up the opportunity for people to continue making fun of him on the Internet.
of COURSE the guy suing ESPN for showing him sleeping at a ballgame is a Yankee fan. pic.twitter.com/x5HsqEhlcV http://t.co/TVYU6OAuGg

— Evan 'Funk' Davies (@efd) July 7, 2014

(by Dennis DiClaudio)