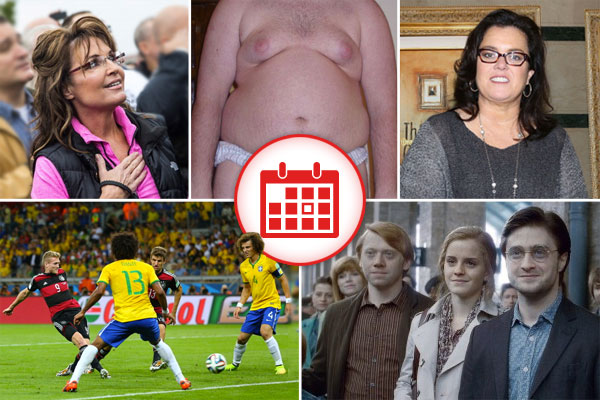 1. Brazil Suffers Its Greatest Loss Since Nerdy, White People Stole Samba Music
It's bad enough that Brazil had to suffer a humiliating 7-1 defeat at the hands of Germany in yesterday's semi-final World Cup game, one that sent its fans into ululating fits of unimaginable despair. But now, as it turns out, that game has become the most talked about sporting event in the history of Twitter. But, on the plus side, the World Cup host nation did manage to deliver an historic tournament.
A quick review of Brazilian newspaper front pages suggests there are many Portuguese synonyms for "shame." #WorldCup

— Krister Johnson (@KristerJohnson) July 9, 2014
Brazil is gonna get wasted and call up its abusive ex, Portugal, and cry and try to get back together.

— Sara Benincasa (@SaraJBenincasa) July 9, 2014
Brazil lost its World Cup match against Germany. A bittersweet day for hidden Nazi war criminals.

— Erik Bergstrom (@Erik_Bergstrom) July 9, 2014

2. Rosie O'Donnell To Replace Jenny McCarthy As Resident Annoying Conspiracy Theorist On 'The View'
ABC has announced that it will be replacing the foul-mouthed vaccine-conspiracy theorist and former MTV host Jenny McCarthy with the loud-mouthed 9/11-conspiracy theorist and former VH1 host Rosie O'Donnell on The View.
When Rosie O'Donnell is your next best solution, you're fucked.

— Stephanie Gutierrez (@stephaniesits) July 9, 2014

3. Sarah Palin Calls For Obama's Impeachment — Or, Failing That, Your Attention
In an op-ed for Breitbart.com, half-term Governor of Alaska Sarah Palin has demanded that U.S. Congress begin the process of removing President Obama from office. "It's time to impeach; and on behalf of American workers and legal immigrants of all backgrounds, we should vehemently oppose any politician on the left or right who would hesitate in voting for articles of impeachment."
Sarah Palin's call for Obama's impeachment is no idle threat. When she was Alaska Governor, she managed to impeach herself.

— Frank Conniff (@FrankConniff) July 8, 2014

4. J.K. Rowling Releases Her Own 'Harry Potter' Fan Fiction
Best-selling fantasy author J.K. Rowling recently published a new story in which her iconic character Harry Potter is a thirty-something guy with a regular job who's still obsessed with wizard stuff. It's kind of the perfect story for Rowling's fan base.
The new Harry Potter story is about Harry getting a Twitter account and never accomplishing anything of substance ever again.

— Rex Huppke (@RexHuppke) July 8, 2014

5. Study: You're Not Fat Because You Ate A Whole Jar Of Mayonnaise —You're Fat Because You Used A Hoveround To Get It
According to a new study, Americans aren't ingesting any more calories than they were twenty years ago. Increased obesity rates instead can likely be blamed on the fact that most of us wouldn't exercise if our lives depended on it. Which it kind of does.  
American Flag Day Factoid: These colors don't run because they're morbidly obese.

— Jim Earl (@jimearl666) June 14, 2014

(by Dennis DiClaudio)