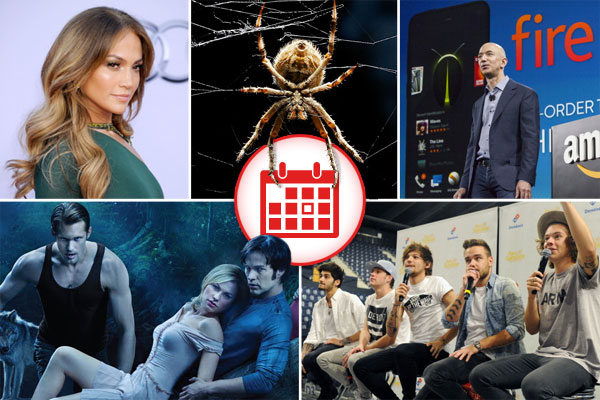 1. The New Amazon Fire Smartphone Helps You Give Your Money To Amazon Faster Than Ever
The newly unveiled Amazon Fire Phone will feature specialized text, music and image recognition technology that should make it easier than ever for users to send all of their money to Jeff Bezos with just a few clicks of a virtual button.
"If you enjoyed talking to Jim, you may also enjoy talking to Peter." - Amazon's new Fire smartphone after every call.

— Doug Abeles (@dougabeles) June 19, 2014

2. Spiders All Over The World Can Hunt And Devour Fish — Are Humans Next?
Good news, everybody! Multiple species of spiders all over the world have been found quite capable of hunting, killing and devouring fish. That puts them one link closer to us on the food chain than usually assumed. And while it would be silly to worry that they could evolve to trap and eat New York City pedestrians by the year 2020, some time around 2025 seems slightly more likely.
Grown men who are terrified of spiders are sexy as hell. Do that high pitched scream - oh yeah, that's it.

— molly (@Molly_Kats) June 18, 2014

3. 'True Blood' To Be Resurrected As Even Sillier Broadway Musical
HBO's hit vampire/fairy/werewolf/other-kind-of-shapeshifter/witchcraft/ghost/minotaur series True Blood may be coming to an end after its seventh season this summer, but it will very likely be living on indefinitely as a staged musical, feeding nightly upon the bank accounts of its devoted and undiscriminating fan base.
Being a fan of True Blood is like boning a SUPER stupid but SUPER hot dude. You want people to know about it but also are very ashamed.

— Susan Burke (@ThatSusanBurke) April 21, 2014

4. Donald Trump Wouldn't Touch Jennifer Lopez Or Kim Kardashian With A Ten-Foot Toupee
Sorry Jennifer Lopez, Kim Kardashian and other buttocksically well-endowed women of the world, but all your dreams of boning down with world-class-sexy-man Donald Trump have been dashed. While speaking to Howard Stern on his radio show the other day, the millionaire playboy confided that Kim Kardashian and Jennifer Lopez's "record setting" asses are a real turn-off. He just likes things to be a little more understated and non-ostentatious, I guess.
My heart aches for every escort Donald Trump has hired.

— JonathanDanielBrown (@JonathanDBrown) June 17, 2014

5. You Now Live In A World In Which Boy Band Fan Fiction Sells For Hundreds Of Thousands Of Dollars, So Get Writing!
A 25-year-old One Direction fan who received 800 million views for the online erotic fan fiction she wrote about her favorite boy band has reportedly sold the story's publication rights for something in the six-figure range. Wow! This really breathes new life into your Choose Your Own Adventure Nickleback project, doesn't it?
When you finish reading a fanfiction and you look around questioning what to do next.

— Rayna ✌ (@ParxdiseLou) June 18, 2014

(by Dennis DiClaudio)