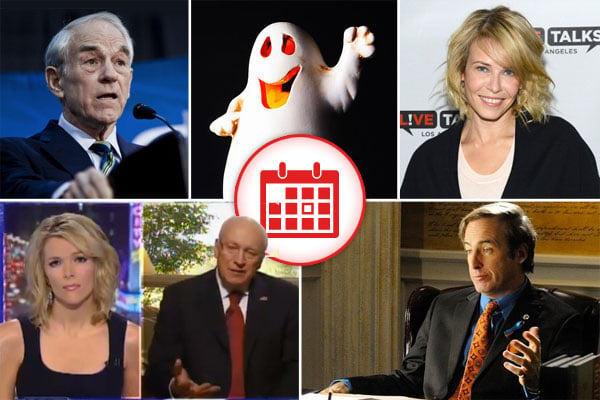 1. Ron Paul Agrees To Take Role, Possibly As Atlas, In 'Atlas Shrugged' Finale
Big news for libertarians and fans of awkwardly didactic filmmaking: Ayn Rand-enthusiast Ron Paul will be taking on a role in the upcoming third part of the highly unsuccessful Atlas Shrugged trilogy. I haven't read the books, (I prefer my fantasy to be slightly more tethered to reality and also have dragons), but I'm assuming the former U.S. legislator will play the titular character, who is ultimately discovered hunkered in a cave with John Galt and an enormous pile of the country's gross domestic product.
Strippers love it when you make it rain collectible coins with Ron Paul's face on them.

— The Night Stalker (@kolchak) May 23, 2014

2. Dick Cheney Magnanimously Allows Megyn Kelly To Continue Breathing After Being Confronted During Fox News Interview
Although it was certainly in his power to reach through the satellite feed and crush her trachea betwixt his preternaturally powerful claws, former Vice President Dick Cheney allowed Fox News host Megyn Kelly to live another day after she implied on live television that he and the Bush administration were wrong on many counts about the botched U.S. invasion of Iraq. It is currently unknown whether or not he later opted to dispatch a horde of spiders to nestle their brood inside her brain while she slept.
Asking Dick Cheney about Iraq is like asking Gozer the Gozerian who should be blamed for the Stay Puft Marshmallow Man attacking New York.

— Benari Poulten (@BenariLee) June 19, 2014

3. Chelsea Handler To Host First Failed Talk Show On Netflix
After her E! gossip show Chelsea Lately draws to an end this summer, Chelsea Handler will be switching over to the online-based Netflix network to host their first almost-certainly unsuccessful foray into talk shows. "I wanted to sit with the cool kids at lunch so I approached Netflix to make sure they were as cool as I thought they were, and when I confirmed my suspicions, like with any other future lover, I made my move," Handler said in a statement.
Chelsea Handler is taking her show to Netflix. Frank Underwood will no longer be the most diabolical character in their programming roster.

— Eli Braden (@EliBraden) June 19, 2014

4. AMC Renews 'Better Call Saul' After Zero Successful Seasons
TV fans are wondering whether the upcoming Better Call Saul can possibly live up to the hype surrounding the immensely popular and critically lauded end to Breaking Bad, the show from which it's being spun-off, but AMC seems confident enough in its hopeful new cash cow that it decided to lock it down for a second season months before the first one even starts to air.
If the second season of Better Call Saul is half as good as the first, then...something.

— Joshua Malina (@JoshMalina) June 20, 2014

5. Tourist Who Did Not Actually Photograph Ghost At Alcatraz Claims To Have Photographed Ghost At Alcatraz
A British woman who was recently touring through the Alcatraz prison with her camera has managed to provide the world with definitive proof that sometimes photographs look like they have things that might or might not be ghosts in them. The world quakes at this startling revelation.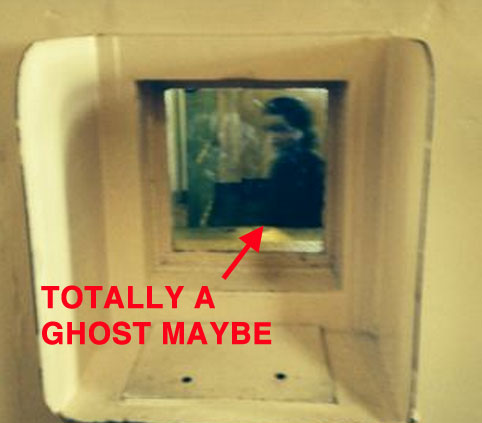 One is either the kind of person who clicks on the link "Alcatraz ghost caught on camera," or one is not.

— Mojave Phone Booth (@MojaveFoneBooth) June 18, 2014

(by Dennis DiClaudio)