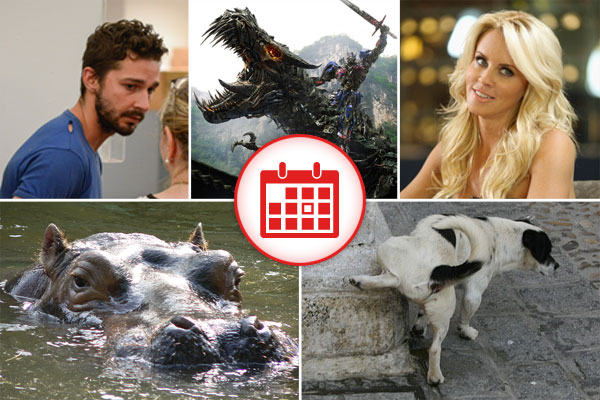 1. Shia LaBeouf Is A Walking Piece Of Performance Art — Or A Drunk Asshole
Last night, beloved actor and respected performance artist Shia LaBeouf outdid himself with his latest piece of experimental theater, A Guy Who Clearly Needs Help Drinks Too Much, Harasses A Homeless Man And Gets Arrested After Disrupting A Broadway Show. Said one non-voluntary member of LaBeouf's audience, "He was brilliant."
Shia LaBeouf has got to be the most badass motherfucker to ever interrupt the musical "Cabaret."

— Eric Ledgin (@iamledgin) June 27, 2014

2. 'The View' Vaccinates Itself Against Any Future Jenny McCarthy Controversies
Anti-vaccination activist Jenny McCarthy was fired from ABC's daytime talk show The View, along with her co-host Sherri Shepherd, who may or may not remain agnostic on the controversial question of whether or not the Earth is a sphere. Perhaps the two entertainers will be replaced by co-hosts with a stronger grasp on reason, such as, perhaps, a potato and an old boot.
Sherri Shephard and Jenny McCarthy are leaving The View? Now who are we supposed to roll our eyes and make the jerk off motion to???

— Jenny Johnson (@JennyJohnsonHi5) June 27, 2014

3. 'Transformers: The Age Of Extinction' Is Worse Than You Think And Will Make More Money Than You Can Imagine
Transformers: Age of Extinction, the fourth installment in Michael Bay's wildly popular and critically panned Loud Metallic Things Hitting Each Other And Smashing Buildings franchise, is currently receiving nearly universally awful reviews—worse than any of the previous three—from critics everywhere. It is certain to be a massive, massive hit! 
staring out my apartment window watching homeless guy vomiting into gutter which reminds me, doesn't Transformers open today?

— Matt Oswalt (@Puddinstrip) June 27, 2014

4. Pablo Escobar's Hippos Will Continue His Reign Of Terror In Colombia
When Colombian drug kingpin Pablo Escobar voluntarily retired from his career in criminal activities and went off to some beach somewhere to live out the remainder of his days in restful self-reflection surrounded by the people he loved (or so I imagine), he left behind a bunch of pet hippos. After the water-loving animals, which are indigenous to southern Africa and not South America, escaped into the sultry Colombian wilderness, they started mating, and now the country has several dozen of them—and counting— in their ecosystem. Sounds perfectly harmless.
Pretty cruel joke that hippos are vicious animals. First person to see one probably ran up and tried to hug it. Whoops!

— Matt Braunger (@Braunger) March 3, 2014

5. All Mammals Take About 21 Seconds To Pee, Because Nature Has OCD
According to new research conducted at Zoo Atlanta, all mammals take approximately 21 seconds to fully urinate, regardless of the varying sizes of their bladders. Use this information as you will.
Fun office game: pee a circle around your cubicle then do dominance displays through grinning and throwing feces. Wakes everyone up!

— Your Life Coaches (@LIFECOACHERS) June 17, 2014

(by Dennis DiClaudio)