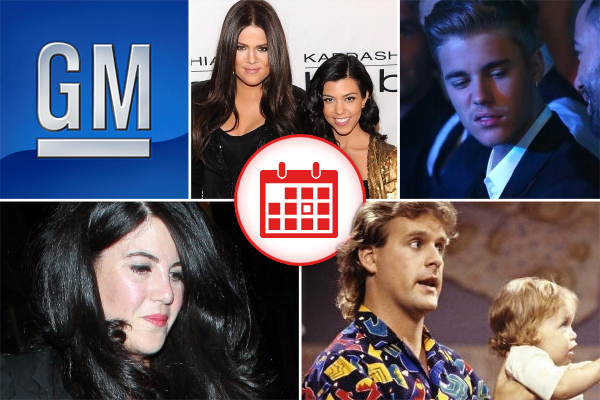 1. GM CEO Announces Faulty Ignition Inquiry Finds Fault In Company, Not Person Running It
General Motors CEO Mary T. Barra announced this morning that an internal inquiry into the delayed recall of cars with faulty ignition switch problems—linked to numerous fatalities and crashes—was the result of a "pattern of incompetence and neglect" throughout the company. Those patterns extended everywhere except the very top, apparently, since Barra and her senior lieutenants were found to be blameless, despite their running the company and establishing the organizational bureaucracy that allowed these patterns to exist.
In the wake of car defects that killed at least 13, GM has dismissed 15 employees and punished 5 more by making them continue to drive a GM.

— Crutnacker (@Crutnacker) June 5, 2014
2. Dave Coulier Dispels Rumor That He Was The One Being Reminded By Alanis Morissette Of The Mess He Left When He Went Away
In an interview with BuzzFeed, Dave Coulier denies that he was the "You" who ought to know in Alanis Morissette's mega-hit spurned woman anthem, "You Oughta Know." Coulier claims he asked Alanis what he should say when asked if the song was about him and she responded, "Well, you know it could be a bunch of people. But you can say whatever you want." When he was later asked again, Coulier chose to say it was about him, but just for the heck of it, because what guy wouldn't want to identify himself as pop music's asshole boyfriend archetype?
Twist: "you oughta know" by Alanis Morissette is the tip of the iceberg -- it turns out all songs are actually about Dave Coulier

— Grant Pardee (@grantpa) September 6, 2013
3. Gross Rich People Don't Like Having Kardashians In Their Hamptons
The Hamptons landlord who rented a storefront to Khloe and Kourtney Kardashian for their new Dash boutique is reportedly being ostracized for ruining the previously Kardashian-free vibe of moneyed Hamptons culture. One former local told Page Six that the presence of the reality TV stars is "cheapening the [Hamptons] brand," apparently unaware that anyone who would say such a thing out loud should feel right at home with the Kardashian family.
No, I will not tell my spellcheck to "learn" the word "Kardashian." It's too late to save mysel, but I can protect my laptop.

— Nell Scovell (@NellSco) May 23, 2014
4. Hillary Clinton Told People Magazine That She's "Moved On" From Lewinsky Affair That Happened Over A Decade-And-A-Half Ago
In testament to her ability to bounce back from things that you'll only remember if you were a 90's kid, Hillary Clinton told People Magazine that she's somehow found the wherewithal to have "moved on" from the Monica Lewinsky scandal. It's assumed her eight years as a Senator and four years as Secretary of State might have helped take her mind off things.
GOP excited Lewinsky is back in the news. It'll remind everyone of those awful Clinton years, when the economy was booming.

— Frank Conniff (@FrankConniff) May 6, 2014
5. TMZ Reportedly Denied The Public The Joy Of Their "Bieber Being Racist" Video Library For Years
Though we're just now getting the chance to sample the apparently ample footage of a mid-teens Justin Bieber using the N-word every time a camera was pointed at him, a source told Defamer that TMZ withheld the videos for four years, using them as blackmail to get Justin to agree to appearances on the gossip network's properties. There are reportedly more videos to come, which you should be able to binge-watch right after finishing up Orange Is The New Black this weekend.
How about a buddy movie where Donald Sterling and Justin Bieber build a time machine and go back to destroy all recording technologies?

— Ben Greenman (@bengreenman) June 5, 2014
(By Bob Powers. Dennis DiClaudio is off today.)