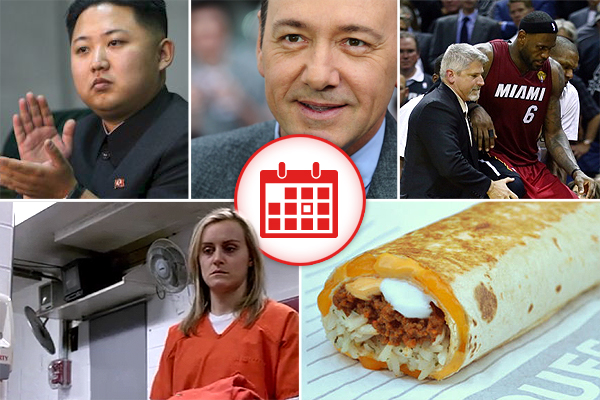 1. A Third American Tourist Has Been Detained In North Korea After Not Being Dennis Rodman
North Korea announced today that they have detained a third American tourist who is not Dennis Rodman. Unlike the former basketball star, who travels in and out of the secretive country with ease, Jeffrey Edward Fowle is being held on charges of violating North Korean law. Fowle entered North Korea on April 29, despite the U.S. (and common sense) advising that its citizens stay out of the country. North Korea has given no further details about Mr. Fowle, but we can surmise that he is not there to coach their basketball team in a spirit of international cooperation.
My cats respect the borders of their litter box like Kim Jong Un respects the borders of South Korea.

— Crutnacker (@Crutnacker) May 31, 2014
2. Kevin Spacey Told Off Some Guy Whose Phone Was Ringing During His One-Man Play Without Breaking Character Because He's Awesome At Making Asides To The Audience
On Wednesday, Kevin Spacey showed just how good he is at making asides to the audience by staying in character even while scolding an audience member whose cell phone went off mid-play. Spacey, who recently starred as aside-loving Frank Underwood in House of Cards, is currently appearing at London's Old Vic Theater as the eponymous character in Clarence Darrow. The actor became irritated during the one-man play and reportedly told the audience member, "If you don't answer that, I will!" in character as Darrow. The he turned to the camera and mumbled something about the man being nothing but an insect in a spider's web. 
About to see a play. I hope it's not one of those uptight casts that get mad when you answer your cell phone during the show.

— Erik Tanouye (@toyns) August 24, 2013
3. LeBron James, Miami Heat Lose Un-Airconditioned Game 1 Of Finals In Fit Of Irony
In the most ironic fashion possible, LeBron James and the Miami Heat lost game 1 of the NBA Finals to the San Antonio Spurs 110-95 when the air-conditioning went out at the AT&T Center. The stadium turned into a sauna, and the heat no doubt contributed to the Heat's loss. LeBron developed leg cramps in his left leg that took him out of much of the second half. LeBron's exit from the court in the fourth quarter even inspired a really mean meme: LeBroning. 
Other reasons Lebron's left games besides cramps: Dry Scalp "The Mondays" A little too healthy To pet a dog Remembered the end of My Girl

— Rob Fee (@robfee) June 6, 2014
4. Taco Bell Unveiled A New Hybrid Mexican Food Monstrosity, The Quesarito
Demonstrating their trademark disregard for the integrity of individual Mexican food items, Taco Bell unveiled their latest monstrosity yesterday: the quesarito. The quesarito is a burrito made with a quesadilla instead of a burrito, and it's available starting June 9. Filled with rice, chipotle sauce, sour cream, and your choice of meat, the quesarito was clearly thought up by the same dangerous innovator who marched into the Taco Bell boardroom and declared that there was no reason a waffle could not also be a taco shell. 
I just accidentally dropped a handful of change on the floor in Taco Bell so if any one is not too fat to bend over to pick it up, it yours.

— Wickedwordslinger (@StephenBCramer) June 4, 2014
5. Your Friends Are Not Available To Hang Out Tonight Because Season 2 Of "Orange Is The New Black" Came Out Today Or Because They Don't Like You
Season two of Netflix original series Orange is the New Black came out today, which explains why none of your friends are available to hang out tonight. Or, it could also be that they just don't like you that much. But hey, cheer up: you've got lots of new TV to be your friend! 
We've all finished Orange Is The New Black Season 2 right?

— Mike Scollins (@mikescollins) June 6, 2014
(by Shira Rachel Danan. Dennis DiClaudio is off today.)