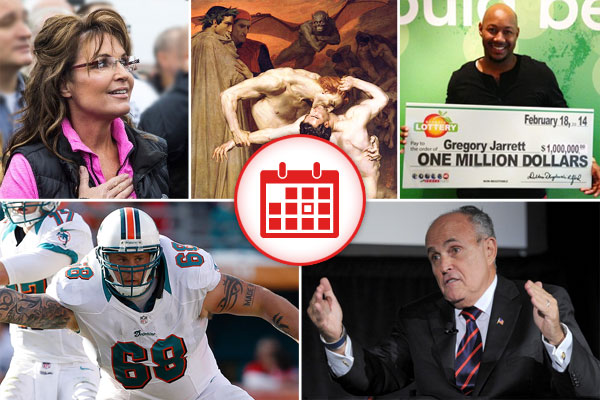 1. Turns Out That Sarah Palin Is Smarter Than Us All — She Predicted Ukrainian-Russian Situation In 2008
Sarah Palin took to Facebook yesterday to brag about having kind of predicted Russia's current military action in Ukraine six years ago while she was campaigning as the Republican vice-presidential candidate. We await to see how this revelation will affect the nation as it enters its Sarah Palin got something right era.
Fox News has dispatched cameras to Sarah Palin's backyard so they can monitor Russian troop movements in the Ukraine.

— Rex Huppke (@RexHuppke) March 1, 2014

2. Rudy Giuliani Came Within 9/11th Of An Inch Of Getting Whacked By The Sicilian Mafia
The Sicilian mafia apparently hated Rudy Giuliani so much while he was serving as the US Attorney for the Southern District of New York back in the 1980s that they actually sent a hit over to New York City to put him down. The plan was ultimately scrapped at the last moment when it was revealed that US law enforcement agencies do not like having their people killed and would probably retaliate.
Say what you will about Giuliani, but he got rid of the Baseball Furies.

— Dan McCoy (@dankmccoy) June 14, 2013

3. Richie Incognito Sent To Psychiatric Clinic After Bullying His Car With A Baseball Bat
Miami Dolphins guard Richie Incognito—who has been accused of bullying teammates in the past—was admitted to an Arizona psychiatric clinic Thursday after beating the ever-living shit out of his Ferrari with a baseball bat. Incognito joked that the car is now "a piece of art," which isn't scary at all.
I wonder if Richie Incognito checked himself into the psychiatric care unit under an assumed name.

— Jon Friedman (@friedmanjon) February 28, 2014

4. Georgia Man Receives Million Dollar Reward For Cleaning His Room — What Did You Get?
While cleaning his room, a Georgia man found a lottery ticket that he had completely forgotten buying. When he checked the numbers, he discovered that it was a winner, worth $1 million. Say, didn't you buy a lottery ticket a couple weeks ago? Are you sure you didn't? Are you really sure?
Of all the ways to have your life ruined, winning the lottery is the most appealing.

— Joshua Malina (@JoshMalina) February 19, 2014

5. Believing That Millions Of Souls Are Being Tortured In An Underworld Pit Of Fire For All Eternity Does Not Seem To Make People Happier For Some Reason
According to new research, people who believe in Hell tend to be less happy than people who do not, which seems a bit odd. The study did not mention what aspect of believing that half of the people in your life are bound to be cast into a lake of eternal fire fails to make you chipper.
In hell they play a constant slideshow of all the selfies you took and then immediately deleted.

— lauren mcguire (@imlaurenmcguire) February 28, 2014