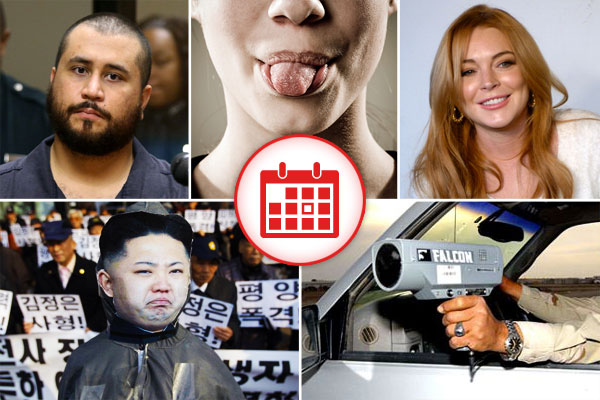 1. Kim Jong Un Wins 100% Of The Vote In Totally Legitimate North Korean Election-Type Thing
Now that supreme leader Kim Jong Un—who was running uncontested in North Korea's national elections yesterday—has walked away with a solid 100% of the vote, everybody can stop questioning the legitimacy of his dystopian dictatorship and accept him as the universally beloved father figure of the country. Nonexistent nameless opponent must be feeling pretty badly about himself today.
Not sure if dogs appreciate what people do for them, or if they think this is just one big North Korea. #obey

— Troy Conrad (@troyconrad) February 19, 2014

2. Florida Might Shut Down A Whole City That's Too Corrupt Even For Florida 
The state of Florida is considering eliminating the small speed trap/city of Hampton, which has less than 500 residents but 17 police officers, who spend all their time collecting speeding tickets from passers-by on the local highway US 301. The $600K they collected in two years is nowhere to be seen, and the mayor is currently in jail for allegedly dealing oxycodone. Apparently, it's just slightly worse than most cities in the state.

3. Lindsay Lohan, The Human Embodiment Of A Reality TV Show, Now Has Her Own Reality TV Show
Lindsay Lohan's reality television show premiered on Oprah Winfrey's OWN network last night, giving the chain-smoking, drug addicted, deeply troubled former child star just the right amount of intense media scrutiny that she will need to turn her life around for the better.
Ugh, these vultures only watch NASCAR in the hopes of seeing a big fiery crash. Anyway, have you seen this reality show about Lindsay Lohan?

— Louis Peitzman (@LouisPeitzman) March 10, 2014

4. Actual Human Beings Wait In Line To Get George Zimmerman's Autograph At Florida Gun Show
The media's favorite vigilante George Zimmerman appeared at a gun show in Orlando, Florida over the weekend to sign autographed pictures of himself and his dog. The event was supposed to be held at a larger venue, but it was eventually moved to a small gun shop due to this whole thing being a terrible, terrible idea.
Florida local news is showing George Zimmerman sign autographs for fans at a gun show; this image will forever be FL's state flag in my mind

— Aaron Fullerton (@AaronFullerton) March 9, 2014

5. Oral Sex Phone App Finally Gives You An Excuse For Licking Your Phone
The new "Lick This" app teaches smart phone users how to properly give oral pleasure to a female sexual partner. It is apparently based upon the idea that if squeamish guys can get used to running their tongues across their bacteria-covered phone screens, going down there for their girlfriends will seem like nothing.
ORAL SEX TIP: right before your partner orgasms whisper "snakes can dislocate their jaw"

— Zoë Klar (@madamezooble) February 26, 2014