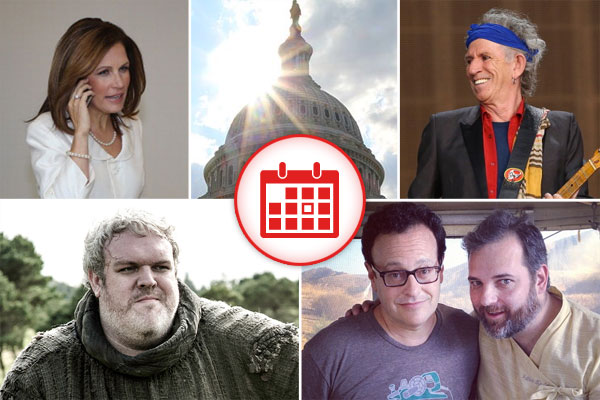 1. U.S. Congresspeople Outraged At Being Spied On By Government As Though They Were U.S. Citizens
U.S. Senate Intelligence Committee chair Dianne Feinstein (D-CA), and a number of her fellow staunch NSA supporters in Congress, were absolutely scandalized to learn that the CIA may have been spying on them as though they were a bunch of common, tax-paying Americans. Where does that agency get off thinking behavior like this is acceptable?
Dianne Feinstein says she's totally opposed to spying on our allies. I wish she viewed American citizens as her allies.

— ben schwartz (@benschwartzy) October 29, 2013

2. Michele Bachmann Is So Tired Of America Being Pushed Around By Its Oppressed Gay Minority
Still fuming over Arizona Gov. Jan Brewer's decision to veto SB-1062 last month, Rep. Michele Bachmann bravely spoke out on a conservative radio talk show, condemning the country's gay community for continually "bullying" the American public into discriminating against them at a slightly less than normal.
"There's a terrible intolerance afoot ... and it's against people who hold sincerely held religious beliefs." - Michele Bachmann (R-Crazy)

— Rex Huppke (@RexHuppke) March 6, 2014

3. Keith Richards Has Some Really Primo Writing Stuff For You To Inject Into Your Childrens' Eyes
Rolling Stones guitarist Keith Richards—who somehow is still alive despite decades of self-abuse via drugs and alcohol—has taken the next logical step in his career and has penned a children's book. He says Gus & Me: The Story of My Granddad and My First Guitar was inspired by his own childhood, several eons ago in the recesses of deep time.
Keith Richards is releasing a children's picture book. It's a scratch n' snort.

— Andrew Goldstein (@AngeGold) March 11, 2014

4. Hodor Comes Out Of The Closet As A Proud Gay Hodor
Kristian Nairn—the Northern Irish DJ and actor best known for playing Hodor, the "Hodor"-saying childlike giant on HBO's Game of Thrones—announced during an interview that he is openly gay. He explained that he had never mentioned it before because no one ever thought to ask. 
I've never been prouder to be hodor.

— Louis Peitzman (@LouisPeitzman) March 11, 2014

5. The Two Guys Behind 'Community' and 'Arrested Development' To Combine Forces And Create Something Twice As Awesome And Half As Popular 
Dan Harmon—the creator of NBC's Community, which is always a hair's breadth away from being cancelled due to low ratings, despite its critical acclaim and cult following—is apparently working on a new TV project with Mitch Hurwitz, the creator of Fox's Arrested Development, which was cancelled due to low ratings, despite its critical acclaim and cult following. Hopefully, we'll get to see it before it ceases to exist.
Walking Dead should mix it up and do a Community parody episode.

— Josh Gondelman (@joshgondelman) March 10, 2014