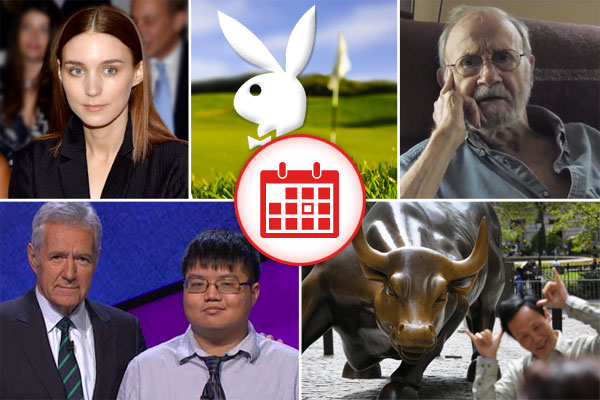 1. Guy Whom Everybody Hated For Being Really Good At 'Jeopardy' Makes Everybody Happy By Finally Losing At 'Jeopardy'
Jeopardy's controversial, long-time champion Arthur Chu—who annoyed a lot of people by not following conventional etiquette in choosing questions—ended his 11-game winning streak last night. Fans of the show are thrilled that it can now go back to being comfortably predictable and non-challenging.
Also let the record show that my follower count is 11.3K and when I go back to being nobody I will always remember standing atop Olympus

— Arthur Chu (@arthur_affect) March 12, 2014
If I were on Jeopardy, my strategy would be to buzz in at every opportunity and say, "Well, that's anyone's guess"

— Bridger Winegar (@bridger_w) March 12, 2014

2. Hollywood Finds Perfect Snowy White Pixie Actress To Play Classic Native American Character — Rooney Mara Cast As Tiger Lily In 'Peter Pan' Adaptation
Warner Bros has caused some controversy by casting the very, very, very white-looking actress Rooney Mara as the non-white Native American princess Tiger Lily in Joe Wright's upcoming live-action adaptation of Peter Pan. This marks the millionth time a caucasian actor has played a native american on screen and the zero-ith time a native american has played a caucasian.
Lena Dunham is currently rocking a pixie haircut; NBC is looking for someone to play Peter Pan. That's all I'll say.

— Henry Alford (@henryalford) January 22, 2014

3. Wall Street Bigwigs Still Trying To Figure Out Which 2016 GOP Candidate Will Best Help Them Stay Disgustingly Rich
Now that Chris Christie's presidential chances have seemingly been compromised by scandal, power players on Wall Street are flirting with several new potential GOP candidates, attempting to discern which one will have the best chance at helping them buy a fifth island for their kids for Christmas. 

4. Iconic Movie Trailer Voice Guy Has Gone Up To That Big Sound Booth In The Sky 
Hal Douglas—the extremely recognizable voice behind many of Hollywood's biggest movie trailers—succumbed to cancer last week at the age of 89.
The lyrics to "American Girl" would make a pretty badass movie trailer if spoken in a husky enough voiceover.

— Josh Gondelman (@joshgondelman) December 30, 2013

5. Playboy Model Sues For Getting Painfully Double Entendred On Golf Course
Playboy model Liz Dickson is suing the magazine after she was allegedly injured during a photo shoot on a golf course. Apparently, she was struck on the buttocks with a golf club after a gold ball and tee were placed in her butt cleavage. You know, standard model stuff.
i read playboy for the articles. of clothing that the women aren't wearing.

— Myq Kaplan (@myqkaplan) January 20, 2014