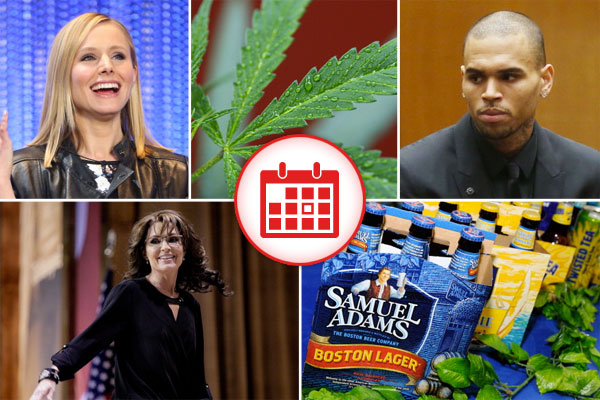 1. Chris Brown Takes Break From His Home In Rehab To Visit The Pied-à-Terre He Keeps In L.A. County Jail
Troubled R&B singer Chris Brown was kicked out of a court-ordered Malibu rehab center yesterday for doing something Chris Brown-ish. He was shortly thereafter arrested and taken to jail, as leaving the rehab facility violates the terms of his probation. 
With all this craziness about Chris Brown in jail or custody or rehab, I hope we don't forget that he also sucks.

— Louis Virtel (@louisvirtel) March 14, 2014

2. Colorado May Release Some Of The People It Locked Up For Ridiculous Possession Of Marijuana Charges
A Colorado appellate court decided this week that some of the people who were were jailed after being found guilty of possessing marijuana in the past may be released due to a "significant change in the law." But they probably won't be getting their stashes back.
Pat Robertson calls for relaxed marijuana possession laws. Which finally explains where that paranoia about hurricanes and gays comes from.

— Warren Holstein (@WarrenHolstein) March 6, 2012

3. Sarah Palin Selling The Luxury Bus She Pretended To Tour The Country In
Half-term Alaska Gov. Sarah Palin announced that she is selling the $280K luxury bus—emblazoned with the U.S. Constitution and her gigantic face—in which she would drive up to public speaking events (after having been driven to it from the airport) while touring in support of the personal memoir which somebody else wrote for her. 
Sarah Palin: "The tyrannosaursical Obama administration is remindful of Adam Hatler's brutal reign over Narnia Germany in the 1972s."

— Rex Huppke (@RexHuppke) March 8, 2014

4. Sam Adams Pulls Out Of Boston's St. Patrick Day Parade After Soulful Revelation About The Value Of Gay People's Money
Having yesterday reached the point when supporting publicly-sanctioned homophobia apparently became less financially viable than eschewing it, the Boston Beer Co. (which makes Sam Adams) decided to end its sponsorship of Boston's St. Patrick's Day Parade over the event organizers's refusal to allow gay veterans to participate. Or, more to the point, over a gay bar's decision to stop selling Sam Adams due to their sponsorship of the anti-gay parade. 
St. Patrick's Day parades that ban gay people are basically saying: "We're so hateful we'll exclude the people who do parades the best!"

— Josh Gondelman (@joshgondelman) March 16, 2013

5. 'Veronica Mars' Fans Suffer Psychological Meltdowns After Encountering Technical Glitches While Trying To Download Newly Released Film 
When the crowd-funded, big-screen version of the cult-hit TV series Veronica Mars was released into movie theaters and onto televisions simultaneously yesterday, contributors to its online financial campaigns were supposed to receive a free digital version of the film. However, technical glitches with Flixster and UltraViolet caused many fans to experience difficulties in downloading it for a few hours, so they understandably went insane and suffered Veronica Mars-deprived panic attacks, losing grasp of the few thin threads that kept them tethered to reality and descending headlong into tar-thick black pools of utter despair. Warner Bros. has promised to send them refunds for their troubles.
The "Veronica Mars" Kickstarter has been a true gamechanger for Hollywood financing, and Kristen Bell-stalkers.

— Rob Kutner (@ApocalypseHow) March 12, 2014