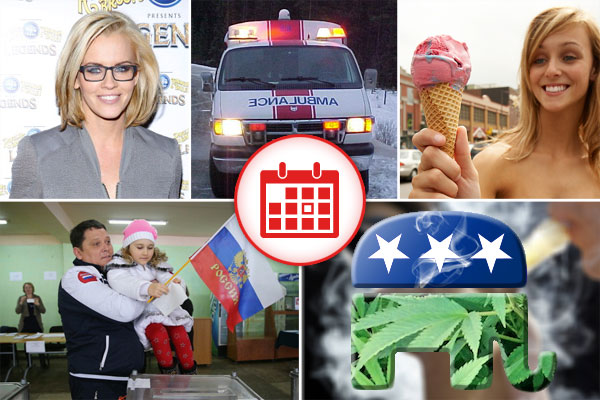 1. Crimeans Head To The Polls Today To Decide Whether To Join Russia Or Really Join Russia
Residents of the Crimean region of Ukraine Russia some country in Eastern Europe vote today to decide whether they would like to be an independent entity under the control of the Kremlin or a region of Russia under the control of the Kremlin. There is no option for remaining a regular region of Ukraine like they were a month ago.
I think people are going to be pretty surprised when Crimea overwhelmingly writes in to join Norway.

— Eugene Mirman (@EugeneMirman) March 16, 2014

2. Russian Diplomat Who's Clearly Very Good At His Job Stabbed During A Drunken Street Fight
A Russian diplomat was rushed to the hospital after being stabbed with a knife during an alcohol-fueled fight on the streets of Ottawa, Canada. In unrelated news, recent talks between U.S. Secretary of State John Kerry and Russia's head diplomat Foreign Minister Sergei Lavrov did not go as well as many hoped they would.
I bet there's a guy named Matt who's a diplomat and goes by DiploMatt. His car mats say "DiploMatt's DiploMats." Nobody likes him.

— Aaron Glaser (@aaron_glaser) May 16, 2013

3. GOP Pro-Marijuana Group Wants To Shrink Government Down So Small It Can Roll It Up In A Joint And Smoke It
Republicans Against Marijuana Prohibition—a conservative political group that favors the legalization of marijuana—held its inaugural meeting in Houston, Texas yesterday. "The drug war goes against every principle we have of smaller government, fiscal responsibility and less intrusion in your private life," the group's founder told a local ABC affiliate.
"If Republicans were smart, they'd steal pot as a freedom issue...but of course they're not, so they won't." @billmaher #RealTime

— The Real Timers (@RealTimers) June 1, 2013

4. Huge Twitter Response To A Question From Jenny McCarthy Is Rivaled Only By Her Lack Of Understanding Of Both Vaccinations And The Internet
Jenny McCarthy asked fans of The View to tweet what they're looking for in a potential mate at #AskJenny. What she forgot was that the Internet is not The View and most people still think of her as that crazy lady who thinks vaccines cause autism despite all evidence. The response was overwhelming and hilarious.
Someone who think vaccines are safe, Botox is poisonous and who doesn't pick their nose and eat it on MTV #JennyAsks

— Michael Rops (@SkepticalBelg) March 14, 2014
Somebody who gets that refusing vaccines because of 'toxins' and then shilling for e-cigs makes you a pathetic hypocrite #JennyAsks

— Becky (@KiwiLawBird) March 15, 2014
My ideal mate? #askjenny Someone who understands basic science and hasn't killed thousands of kids. http://t.co/PvQOYA3Y5q

— Liz albers (@Liz4tin) March 15, 2014
I hope science is working on a vaccine for Jenny McCarthy.

— Rob Kutner (@ApocalypseHow) January 12, 2014

5. Ice Cream Cleanses Offer Equally Useless But Way More Stupid Alternative To Juice Cleanses
An ice cream shop in Venice, California is offering an alternative to all of those juice cleanses out there that don't work: an ice cream cleanse that doesn't work. It should be a huge hit.
The best thing about a juice cleanse is that you never have time to eat because you?re too busy telling everyone you?re on a juice cleanse.

— Rob Fee (@robfee) February 23, 2014