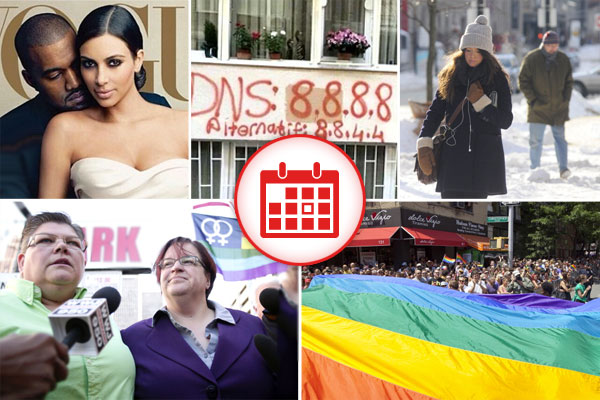 1. Federal Judge Drags Michigan Kicking And Screaming Into 21st Century—Gay Marriage Ban Struck Down
Michigan began issuing marriage licenses to same-sex couples today, one day after a federal judge struck down a ten-year-old ban on gay marriage on the grounds that it violated the U.S. Constitution. Gov. Rick Snyder will appeal the decision, stating, through a spokesperson, that he has an 'obligation' to respect voters' decision to keep the state on the wrong side of history.
Judge strikes down Michigan ban on treating gays like humans with rights. Gov. Snyder promises appeal to protect "traditional bigotry".

— Top Conservative Cat (@TeaPartyCat) March 21, 2014

2. Turkey Getting Covered In Graffiti That's A Bit More Informative Than Letting People Know Who Can Eat A Dick
In defiance of a national ban on Twitter, Turkish protesters have been spray painting instructions and IP addresses for bypassing the block on public walls all over Istanbul, essentially utilizing the original form of social media. 
You can't blame Turkey for blocking Twitter. I mean, if there's one country that's tired of word play...

— Josh Comers (@joshcomers) March 21, 2014
Turkey banned Twitter? What a bunch of Istanbull.

— Matt Goldich (@MattGoldich) March 21, 2014

3. Americans To Celebrate Start Of Spring By Digging Their Cars Out Of A Snowbank
People who are already feeling nostalgic for the Great Winter of 2014 should be happy to learn that a snowy "Nor'easter bomb" will be hitting the east coast on Tuesday. Everyone else should commence with falling onto the ground in the fetal position and crying inconsolably.
Supposed to snow again Tuesday. They're going to have to put Spring on the back of milk cartons.

— Amy Vansant (@AmyVansant) March 21, 2014

4. Kanye West Accomplishes Life's Mission Of Getting His Fiancee Onto The Cover Of Some Magazine
Hip-hop artist Kanye West has successfully managed to cajole and needle Anna Wintour into featuring his reality-TV-and-sex-tape star fiancee Kim Kardashian on the cover of the fashion magazine Vogue, despite the editor-in-chief's longtime reservations. 
so steamed by Kim Kardashian disgracing Vogue cover I could hardly flip thru 50 pages of ads to read blurb about Katie Courics new hat

— Matt Oswalt (@Puddinstrip) March 21, 2014

5. Catholic League Spokesperson Outraged At Being Allowed To March In Gay Pride Parade
Catholic League spokesblowhard Bill Donohue has announced that he will not be marching in New York City's upcoming Gay Pride Parade, despite having applied to do so under a banner reading "Straight Is Great." His stated reason is that the monsters are forcing him to attend an "information session."
How long before @CatholicLeague's Bill Donohue declares that Pope Frances hates Catholics?

— Gen JC Xtian patriot (@JC_Christian) July 29, 2013