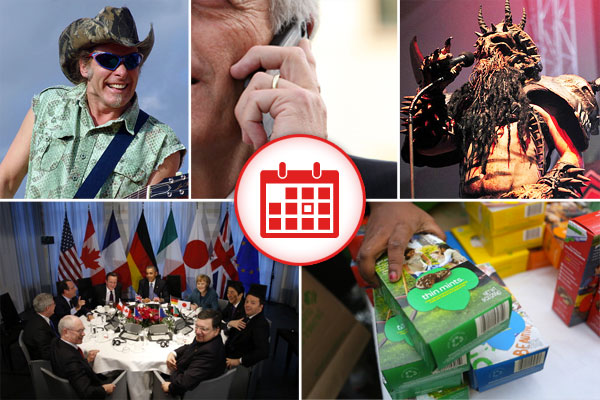 1. Obama Considers Asking NSA To Infringe Upon Citizens' Rights Slightly Less Than Normal 
President Obama is preparing to overhaul the National Security Agency's somewhat unpopular policy of spying on every single American citizen through their phone conversations. If he gets his way, the agency will only be able to spy on anyone they'd like to. This should be a very popular bit of legislation.
I wanted to publish an open letter to the NSA but they said they already read it.

— Gladstone (@WGladstone) March 19, 2014

2. Newly Renamed G7 Talks Probably Have A Lot Less Heat-Butting With Putin Disinvited
After canceling the G8 meeting scheduled to take place in Sochi, Russia, President Obama and the other members of the newly renamed G7 sat down together in the Netherlands and probably spent a lot of time talking about what a dick Vladimir Putin has been lately.
Banning Russia from the Group of 8 summit will definitely teach Putin a lesson: invade another country, get to skip a meeting.

— Krister Johnson (@KristerJohnson) March 25, 2014

3. The Thrash Metal World Loses Its Favorite Intergalactic Demon Lead Vocalist — Gwar's Dave Brockie Dead At 50 Earth Years
Founder and lead singer of the Grand-Guignol thrash metal band Gwar, Oderus Urungus (known to the people of this world as Dave Brockie), has slipped away from this dimensional realm after approximately 50 planetary revolutions. The reason for his corporeal transubstantiation is still unknown to human minds.
"You! Lead singer of Gwar! I have better plans for you." -God, apparently

— Shawn Garrett (@ShawnGarrett) March 24, 2014

4. Ted Nugent's Price For Not Showing Up And Ruining Your Event Is $16,250
The city of Longview, Texas has agreed to pay rock musician-conservative pundit Ted Nugent $16,250 so that he will not arrive in their town and play his brand of power rock music for bemused Independence Day festival attendees. That's about half of what he was originally supposed to be paid to perform at the event, but organizers ultimately decided that a 50% payout for 0% Nugent was a deal too good to pass up.
Ted Nugent has the right to say what he wants and I have the right to have never liked him or his work in the first place.

— Doug Benson (@DougBenson) February 22, 2014

5. Girl Scout Fails To Sell 18,108 Boxes Of Cookies Because She Just Didn't Try Hard Enough
An Oklahoma City Girl Scout was only able to beat the previous record of selling 18,000 boxes of cookies by mere 107 boxes. Had she tried just a little bit harder, she could have sold 18,108 or 18,109. Maybe, if she really cared, she could have sold 18,110 boxes. But she didn't, and she'll have to live with that for the rest of her life.
I bet that if Girl Scout Cookies were exactly the same but were sold by KKK members instead of Girl Scouts, they'd still be somewhat popular

— Gavin Speiller (@gavinspeiller) March 9, 2014