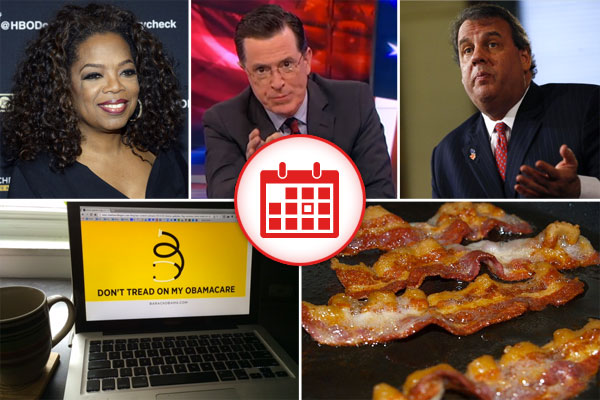 1. People Outraged By Colbert Report Tweet Taken Out Of Context
Outrage broke out online last night after a Comedy Central employee quoted Stephen Colbert out of context on the Colbert Report's Twitter feed. The now-deleted tweet--which read, "I am willing to show #Asian community I care by introducing the Ching-Chong Ding-Dong Foundation for Sensitivity to Orientals or Whatever'"--was a direct quote from the show, intended to highlight the absurdity of NFL team owner Dan Snyder's Washington Redskins Original Americans Foundation to aid Native Americans. Instead, it ended up highlighting the dangers of ever tweeting anything ever. The comment can be viewed in its original context at around the 4:45 minute mark here:
Co-sign! RT @suey_park I'm sick of liberals hiding behind assumed "progressiveness" #CancelColbert

— Michelle Malkin (@michellemalkin) March 28, 2014
#CancelColbert - I agree! Just saw @ColbertReport tweet. I share your rage. Who is that, though? I'm @StephenAtHome http://t.co/e0Pqz7U7i9

— Stephen Colbert (@StephenAtHome) March 28, 2014

2. ObamaCare Triumphantly Reaches Its 6 Million Person Arbitrary Goal
Barack Obama's flagship health care system has successfully managed to attain the 6 million enrollees it needed in order to have 6 million enrollees by the March 31 deadline that could have been moved at any time for any reason.
Obama said supporters are doing God's work by helping to promote Obamacare. God was like, "if I work for Obamacare, I want better coverage."

— Barbara Holm (@barbara_holm) February 28, 2014

3.  Chris Christie Cleared Of Any Wrong-Doing By Group Of People Who Work For Chris Christie
Great news for New Jersey Gov. Chris Christie! Turns out that an internal report commissioned by the governor himself, and carried out by people whom the governor appointed, has cleared the governor of any wrong-doing in the George Washington Bridge traffic scandal that threatened to derail his presidential campaign. Must feel nice to be vindicated.
BREAKING: Chris Christie's report on Bridgegate blames scorned, 'emotional woman who was probably on the rag.?

— Warren Holstein (@WarrenHolstein) March 28, 2014

4. Oprah Is Taking Oprah To The Masses In Cross Country Oprah Tour
Oprah Winfrey has just announced "The Life You Want Weekend Tour" that will be traveling through the U.S. and feature such fan favorites as author Elizabeth Gilbert and guru Deepak Chopra, in addition to The Oprah herself. Don't worry, though. All tickets will be under $1000. (The most expensive ones are only $999.)
When Oprah throws up, she throws up thousands of tiny Oprahs who scream "OPRAH!" before running off everywhere. It's incredibly beautiful.

— John Moe (@johnmoe) March 20, 2014

5. Utah Woman Attempts To Harness Amazing Power Of Bacon For Evil — Tries To Burn Down Ex-Boyfriend's House With It
A Utah woman—whose actual, genuine, real-life, not-making-this-up name is Crispi—was arrested for attempting to burn down her ex-boyfriend's house via a full pound of delicious bacon that she purposefully left burning his gas stove.
Would anyone like to comb my hair with a piece of bacon? In like a sexual way?

— Josh Fadem (@joshfadem) March 20, 2014