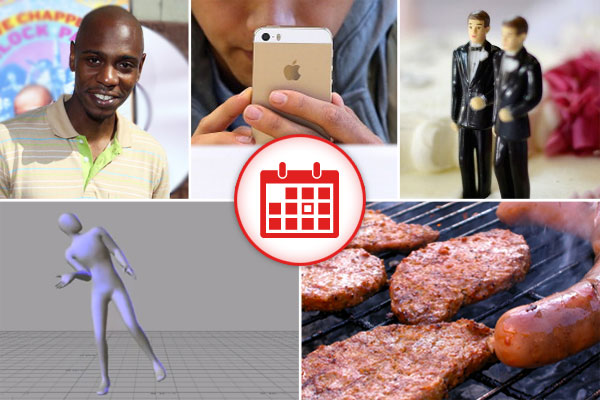 1. Dave Chappelle Returns From The Wilderness, Bearing Comedic Observations For All Of Humanity
Stand-up comedian Dave Chappelle—who voluntarily exiled himself from the comedy world when he walked off his Comedy Central show in 2005—will be giving his first major New York City performance at Radio City Music Hall this June. His last big performance was in Hartford, Connecticut, when his performance was hampered by an unruly audience and his unwillingness to put up with their bullshit.
So are Dave Chappelle?s standup sets technically filibusters?

— Jensen Karp (@JensenClan88) June 26, 2013

2. You'll Be Able To Throw Away That Piece Of Junk iPhone 5s Soon Enough — The iPhone 6 Is On Its Way This Fall
Apple's long-awaited iPhone 6 will likely be released this September, and—in addition to being available in two larger sizes than what is currently available—will be much better than the iPhone 5s, because it will have a "6" at the end of it, instead of a "5s." It is assumed that this will be the pinnacle of technological achievement, at least until the iPhone 7s comes out. 
Just heard a rumor that the iPhone 6 will have drugs.

— Noah Garfinkel (@NoahGarfinkel) April 29, 2013

3.Turns Out Marinating Your Favorite Thing In Your Second Favorite Thing Is Good For You — Meat And Beer May Have Strange Health Benefits
According to a new study from the Journal of Agricultural and Food Chemistry, marinating meat in beer before grilling may help reduce the number of carcinogens in it. We are not scientists, but we take that to mean that you should eat as much beer-marinated grilled meat as you can shove into your face. For health purposes.
us men know we only need 5 things to be happy ;-) 1) beer 2) sports 3) cars 4) meat 5) a narrow worldview free from the threat of disruption

— thomas violence (@thomas_violence) September 18, 2013

4. Sherlock Holmes And John Watson Can Finally Get Gay Married In England
The sun has finally set on marriage inequality in the British Empire. At midnight on Friday, same-sex marriage was officially made legal in the United Kingdom. The Church of England—which was founded in 1534 on the principle of men getting to marry whom they wanted despite cultural norms (kind of)—seems to be giving the new law its blessing.
Gay marriage is now legal in the UK. The Queen has taken a female lover. Buckingham Palace guards are open-mouth kissing. Chaos!

— pourmecoffee (@pourmecoffee) March 29, 2014

5. Men Can Finally Start Procreating Now That Science Teaches Them To Dance Seductively 
Researchers from England's Northumbria University and Germany's University of Gottingen have used careful scientific observation to determine the best dance moves for men to use in order to be attractive to women. So, dance just like this guy here, and you'll definitely get laid like crazy:
Dance like no one's watching. They're not. Because this is a funeral. Stop dancing, you ass.

— Big Tits Will Weldon (@oldmanweldon) March 25, 2014