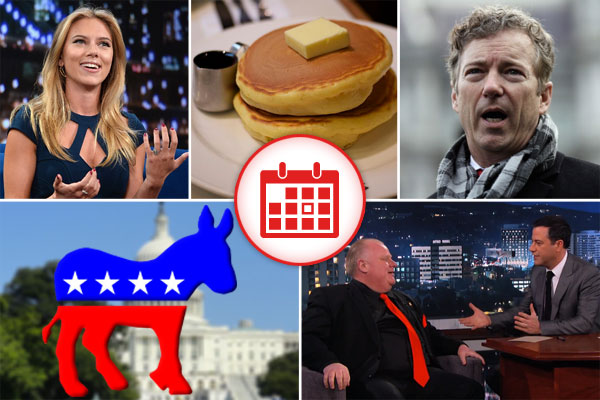 1. Happy Pancake Day! Today You Are Justified In Gorging On Buttery Breakfast Pastries, Unlike Most Days When You Do It Just Because  
Today is Shrove Tuesday or Pancake Day. It is the one day of the year when you get to confess all of your sins while pouring slow streams of syrup atop a stack of delicious, buttery, gluten-filled flapjacks. Because history is even weirder than modern life!

2. Scarlett Johansson Is Having A Baby With Some Dude Who Is Not You
E! News is reporting that actress Scarlett Johansson is pregnant with the child of some French journalist guy named Romain Dauriac. Sources say that a little clever rescheduling from Marvel Studios will probably keep Avengers 2: Age of Ultron from being delayed, but you're probably going to have to push back your brilliant plan for winning her heart by at least nine months.  
Reports say Scarlett Johansson is pregnant. Or is this just a setup for "Her 2"?

— Shane (@myemptythoughts) March 4, 2014

3. Rand Paul Wants Kentucky To Change Its Laws So That He Can Simultaneously Run For President And Senator (And Probably Governor, Mayor In A Couple Towns, Dog Catcher, World's Greatest Dad, Etc.)
Sen. Rand Paul is hoping that his home state of Kentucky will change a law preventing people from running for two political offices at the same time, so that, on the off chance that he does not win the United States presidency in 2016, he can hold onto his Senate seat when his first term ends in two years.
Today, Rand Paul slammed Clinton over Lewinsky scandal. Also worried about Y2K bug and growing popularity of the Spice Girls.

— Frank Conniff (@FrankConniff) January 26, 2014

4. Democrats On The Fence About Whether They Even Want Middle-Aged White Guys Voting For Them
Amidst polling that shows Democrats likely to face major losses in the upcoming midterm elections, the left-leaning party is currently trying to figure out whether or not it wants to try to convince white men above the age of 30 that the Democrats are not just a bunch of God-hating, communist homosexuals.
Political strategists keep saying Democrats need to "expand the map" in 2014. Is Obama planning to invade Mexico to get more Hispanic votes?

— Top Conservative Cat (@TeaPartyCat) March 1, 2014

5. Rob Ford Caught In His Most Reckless Act Yet — Shows Up As Guest On 'Jimmy Kimmel Live' 
Toronto mayor Rob Ford—who was roundly humiliated and criticized as a guest on ABC's Jimmy Kimmel Live last night—says that he was 'set up' by Kimmel. You've got to sympathize with the guy. How is the executive officer of a major North American city supposed to guess that a late night talk show host/comedian might be planning to crack some jokes about him?
The only good thing about Rob Ford visiting Hollywood is me no longer being the fattest Canadian in Los Angeles.

— Adam Wilson ★★☆☆☆ (@theleanover) March 3, 2014