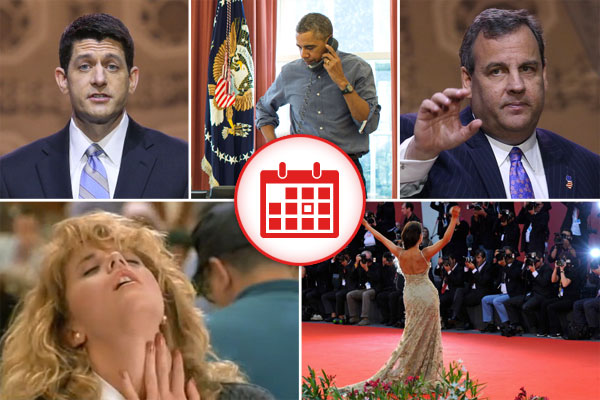 1. Conservative Crowd Gives Chris Christie Standing Ovation For His Fine Work In Proving The Dangers Of Government
New Jersey Gov. Chris Christie—who has been getting a lot of heat lately over last year's George Washington Bridge incident—found his presidential hopes buoyed somewhat when he received a standing ovation at the Conservative Political Action Conference from an audience full of people who do not trust the government. He seems like their perfect candidate.
Chris Christie's going to be the first guy to ever run for president who can't mention George Washington.

— ben schwartz (@benschwartzy) February 20, 2014

2. At Least Some Of Barack Obama And Vladimir Putin's Hour-Long Phone Conversation Was Not Devoted To Speculation Over 'True Detective' Finale
U.S. President Barack Obama and Russian President Vladimir Putin spent an hour talking to each other on the phone yesterday afternoon, and—given the escalating tensions surrounding Russia's military presence in Crimea—we can safely assume that no more than half of that time was spent guessing at whether or not Marty is somehow related to the Yellow King and if Carcosa is a real place.
I'm sorry, but unless Obama texts a picture of his nut sack to Putin, we're totally losing this thing.

— Miles Kahn (@mileskahn) March 4, 2014

3. The Human Male's 250K Year Run Draws To Close With Invention Of Orgasm Machine For Women 
As part of its never-ending quest to wipe the human race from the face of the planet, science has now devised a machine capable of providing a full and satisfying orgasm to women with the push of a button. Once such a machine gains the capacity to kill cockroaches in the bathtub and check on noises in the kitchen at 3:30 am, the male gender will be effectively obsolete.
If they give this machine to men, we'll be out of towels in 10 years and extinct in 70. http://t.co/GDSnH5tnZy

— Craig Mazin (@clmazin) March 7, 2014

4. Rep. Paul Ryan Skewers Schools' Unconscionable Practice Of Giving Food To Poor Hungry Children Whom Nobody Loves
While speaking to a CPAC audience yesterday, presidential hopeful Rep. Paul Ryan expressed his concern that giving free lunches to poor children provides "a full stomach — and an empty soul." These kids can probably learn a lot from their wealthier classmates who spent hours slaving away on the stock exchange floor for the money to buy their PB&Js.
Paul Ryan: "But what the Left doesn't understand is that poor kids can either eat or be loved, but not both, so we must let them starve."

— Top Conservative Cat (@TeaPartyCat) March 7, 2014

5. Getty Images Gives Away 35 Million Photos That People Were Taking Anyway
You now officially don't have to feel guilty for all those Getty Image photos that you've been using all these years, since the photo service has opted to let people embed their images for free. You also don't have to feel guilty for not having felt guilty in the first place.