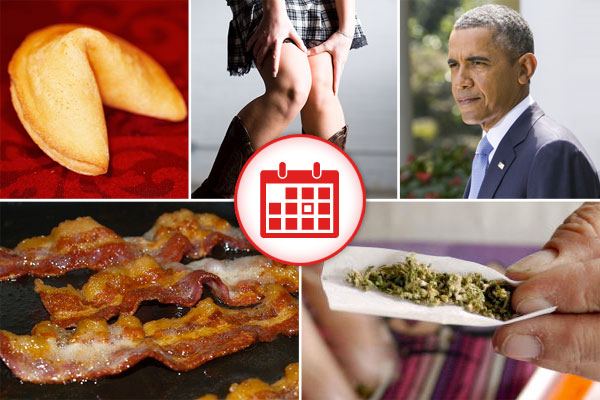 1. Sorry, Creepy Weirdos Of Massachusetts — It's Once Again Illegal To Sneak Upskirt Photos Of Strange Women
Just one day after Massachusetts' Supreme Judicial Court decided that secretly taking pictures of women's "sexual or intimate parts" underneath their skirts did not violate existing sexual harassment laws, the state's legislature passed a brand new law making the exceptionally pathetic and disturbing practice illegal once again.
Massachusetts banned Upskirt photos. Or as Kim Kardashian calls them "Selfies"

— Eliza Bayne (@ElizaBayne) March 7, 2014

2. Barack Obama Gets So Little Respect, He Can't Even Spell The Word
While addressing a crowd at a "Women of Soul" performance in the White House last night, President Obama misspelled a classic Aretha Franklin lyric as "R-S-P-E-C-T," giving uncles and grandfathers across the nation something to howl with laughter over for the next three months.
To cover for Obama's gaffe, the Media will now spell respect only as "rspect" until January 20, 2017.

— Sean The Producer (@SeanTheProducr) March 8, 2014

3. Colorado Gets Some Marijuana DUI Ads That Are Probably Pretty Funny If Watched In The Right Mental State
Colorado unveiled a new series of television commercials aimed at reminding state residents that even though it's now legal to inject a few lines of marijuana here and there, driving while tripping on pot will still land you in jail.
Everyone should carry pot in case they encounter a sick person, or some hard-to-reach teens.

— Jocelyn Plums (@FilthyRichmond) March 8, 2014

4. Random Number That Happened To Be Found Inside A Fortune Cookie Wins $2 Million For Bronx Woman
A 75-year-old Bronx woman won a $2 million Powerball jackpot after using numbers she found inside a fortune cookie, thus providing millions of desperate people who do not understand statistics with newfound hope.
My fortune cookie just says "Replace ink cartridge."

— Adam Wilson ★★☆☆☆ (@theleanover) January 21, 2014

5. New iPhone App Cruelly Taunts You Every Morning With Smell Of Make-Believe Bacon
A new, limited edition app and dongle from Oscar Mayer allows iPhone users to wake up to the sound and smell of freshly fried bacon, so that they can begin their day with a huge disappointment right off the bat. 
Roses are flowers, violets are flowers, bacon isn't flowers, I like bacon. BACON.

— Nicko Bad Film Club (@nickovdw) February 14, 2014