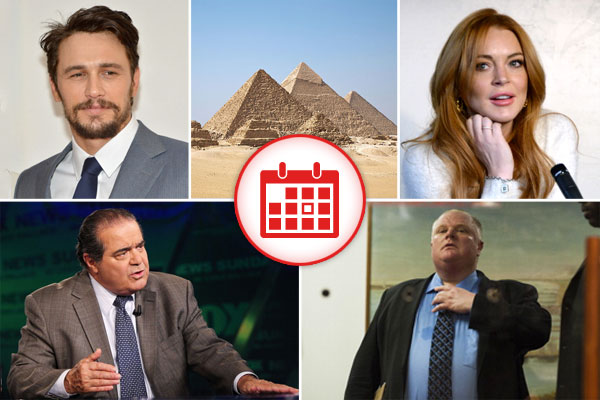 1. James Franco Says Lindsay Lohan Is A 'Delusional Stalker' With Whom He Never Had Sex — Of Those Two Things, Only One Seems Believable
During an interview on The Howard Stern Show yesterday, actor James Franco—who made headlines recently after getting caught propositioning an underage girl through social media—said that after making out with a teenage Lindsay Lohan years ago, the young actress became obsessed with Franco and began stalking him, at one point breaking into his hotel room at 3 am. Franco maintains that he never slept with Lohan, despite both his name appearing on her highly publicized sex list and all probability.
It's the 10 year anniversary of Mean Girls, the film that gave us those old expressions like "fetch" and "actress Lindsay Lohan"

— Eliza Bayne (@ElizaBayne) April 30, 2014

2. Rob Ford Decides To Get Help For His Getting-Caught-On-Tape-Smoking-Crack Problem
Now that another video of Rob Ford smoking crack cocaine has surfaced in the media, the Toronto mayor has announced that he is "ready to take a break" from his re-election campaign and plans to "get help." So, if you know anyone in the Ontario province who can help a guy get his hands on a shitload of crack, please get in touch with the mayor.
I truly hope that this time Rob Ford finally gets the help he needs, to destroy Toronto.

— Mark Leggett ✂︎ ☹ (@markleggett) May 1, 2014

3. Antonin Scalia Objectively, Instead Of Just Theoretically, Wrong In Supreme Opinion
In writing a scathing dissent opinion against the Environmental Protection Agency (and, by extension, the environment), uber-conservative Supreme Court Justice Antonin Scalia referred to a previous SCOTUS decision to make his angry point against all things progressive. However, in doing so, he got the facts of that case completely wrong. Backwards, in fact. Which wouldn't be that bad if he hadn't written the previous majority opinion himself.
Scalia's a strict textualist, even if the text says the exact opposite of what he thinks. And even if he wrote that text.

— David Waldman (@KagroX) May 1, 2014

4. The Amazing(ly Boring) Secrets Of The Pyramids Finally Revealed!
Researchers from the University of Amsterdam believe that they have finally solved one of humankind's greatest mysteries. According to their new study, the pyramids of Egypt were built by neither benevolent extra-terrestrials from across the galaxy nor by super-intelligent people from the legendary city of Atlantis. It turns out, the structures were built by regular Egyptians utilizing the ancient power of mud.
Just once I'd like to visit a documentary section that isn't full of ancient aliens building the pyramids.

— Danforth France (@danforthfrance) April 27, 2014

5. Half Of Illinois Wants To Get Out Of Illinois, Which Is Even More Depressing When You Realize Which States Border It
According to a new Gallup poll, a full 50 percent of people who live in Illinois would rather not live in Illinois. Unfortunately, the 900-foot-high ice wall that surrounds the state is manned by armed soldiers and is nearly impossible to scale. Hope still remains that the legendary Horn of Joramun, capable of toppling the wall with one mighty blast, will eventually be excavated from the Champaign–Urbana region of the state of always winter.