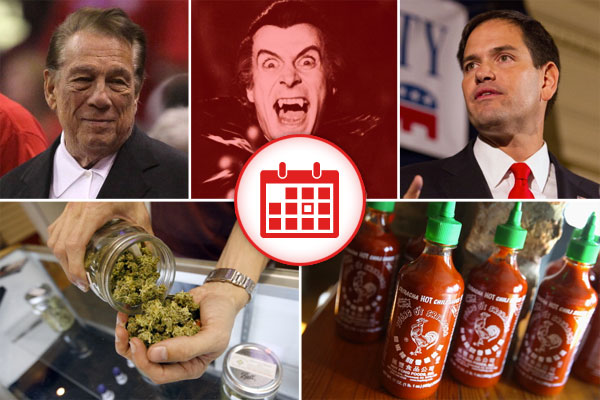 1. Donald Sterling Says He's Not A Racist, Was Simply Tricked Into Behaving Like One For Past Several Decades
L.A. Clippers owner Donald Sterling—who has a long history of discriminatory behavior, aside from the recent comments that got him into trouble—says you've got him all wrong. "I'm not a racist," Sterling told CNN's Anderson Cooper. "I made a terrible, terrible mistake. And I'm here with you today to apologize and to ask for forgiveness for all the people that I've hurt." However, if you're black, please give your forgiveness from over there at the other end of the room.
Donald Sterling claims "I'm not racist" in other news, the sun claims to be "not hot" and every girl named Ashley claims to be "not drunk"

— Dan Duvall (@lazerdoov) May 11, 2014

2. Marco Rubio: Humanity Did Not Cause Global Warming Disaster, But Could Cause Rubio Presidency Disaster  
Sen. Marco Rubio says he disagrees with all those nerd people with their nerd statistics and their nerd evidence when it comes to anthropogenic climate change. "I don't agree with the notion that some are putting out there, including scientists, that somehow there are actions we can take today that would actually have an impact on what's happening in our climate," Rubio told ABC's Jonathan Karl. The senator does, however, agree with the notion—put forth by himself—that he's ready to be President of the United States.
Today, Marco Rubio boldly announced that he just might be stupid enough to deserve the GOP presidential nomination.

— Frank Conniff (@FrankConniff) May 11, 2014

3. Texas Attempting To Woo Sriracha's Toxic Fumes Away From California
A coalition of Texas legislators are doing their best to get Huy Fong Foods to move production of Sriracha—the hot sauce that is allegedly causing health issues for residents of Irwindale, California where it is currently produced—to the Lone Star state, where people love overhyped spicy food products nearly as much as they hate government regulation.
Oh man I put sriracha on everything. Pizza. Burritos. Cake. Bananas. Ice cream. Wedding photos. Coworker's eyes when his radio is too loud.

— Luckyshirt (@luckyshirt) April 1, 2014

4. Legal Pot In U.S. Making It Tough For Mexican Drug Cartel Workers To Make An Honest Living
Legal marijuana in the United States is apparently having an adverse effect on business for Mexican drug cartels. "It's not worth it anymore," said one struggling pot farmer. "I wish the Americans would stop with this legalization." Just another example of liberal policies sticking it to the small business owner.
Beagleize marijuana. Keep it as a pet. Take it on walks. Na, I'm just playing guys, this isn't a real tweet.

— Noah Garfinkel (@NoahGarfinkel) April 24, 2014

5. Dracula's Castle For Sale — Perfect Place To Settle Down And Raise A Family From The Dead
Bran Castle—the 600-year-old fortress built on the border of Transylvania and Wallachia in Romania—is newly on the market. The landmark is said to have been the inspiration for Count Dracula's castle from Bram Stoker's famous horror novel, and is conveniently located 4,534 miles from a G Train. 
If you need to kill Dracula, either put a stake through his heart or give him a show on NBC.

— scharpling (@scharpling) November 17, 2013