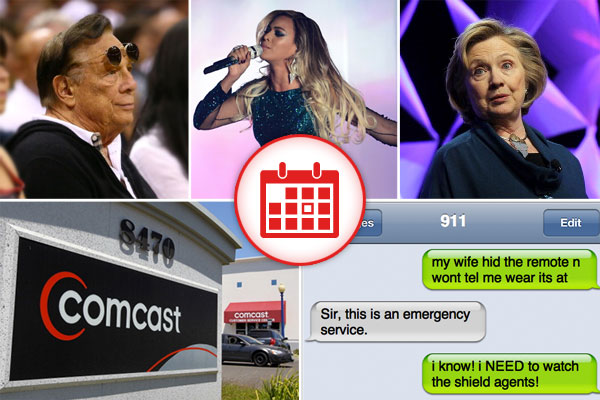 1. Now That His Charm Initiative Has Failed, Donald Sterling Is Going The Tantrum And Law Suit Route
After somehow failing to win the nation over by  bad-mouthing Magic Johnson and calling Anderson Cooper a racist, L.A. Clippers owner Donald Sterling has decided to switch tactics and begin throwing a public tantrum. "We reject your demand for payment," a letter to the NBA from Sterling's attorneys states. Apparently, Sterling refuses to pay the $2.5 million fine and is suing to maintain ownership of his team.
Donald Sterling has chosen to be represented in court by Jim Crow.

— Warren Holstein (@WarrenHolstein) May 16, 2014

2. Beyoncé Opens Up On The Jay Z-Solange Elevator Feud That Is Tearing This Country Apart
R&B singer Beyoncé has finally ended her silence on an elevator fight between her husband Jay Z and her sister Solange. "Jay and Solange each assume their share of responsibility for what has occurred,"  she conveyed in a public statement. "Both have apologized to each other and we have moved forward as a united family." Hopefully, the world can now begin the long process of healing.
The one thing I got from this Jay Z / Solange situation is that Beyonce has a sister.

— Steve Agee (@steveagee) May 13, 2014

3. Hillary Clinton's Numbers Are Remarkably High For Someone With Debilitating Brain Damage
Despite her vegetable-like low brain functionality—as  pointed out by political neurologist Karl Rove recently—Hillary Clinton's popularity remains remarkably high. A new poll shows that she currently has a 57% popularity rating, with even about 25% of Republicans saying they have a favorable view of her. Hopefully, some time before the 2016 election cycle gets underway, someone will be able to explain this to her very slowly with lots of pictures.
QUEEN Hillary Clinton was on The View but the LEFTISTS didn't ask about #BENGHAZI or what happened to my Uncle Rogers #FERRETS!!/ #CoverUp

— Rex Huppke (@RexHuppke) May 16, 2014

4. You'll Soon Be Able To Text Your Stupid Non-Emergencies To 9-1-1
Seeing as how this is 2014, and nobody likes making actual phone calls anymore, the government is testing out a new service that would allow people to  text their emergency situations to 911 instead of going through the hassle of talking to actual human beings. Though the service was initially only available in select rural areas, it has recently been introduced state-wide in Maine and Iowa. It could be available nationwide by the end of the year.
We should all be extra careful who we send our dick pics to now that 911 accepts text messages.

— JonathanDanielBrown (@JonathanDBrown) May 15, 2014

5. Comcast Wants To Limit How Much Porn You Can Download
Comcast says that it's planning to set data limits for all of its customers within the next couple years. This " usage-based billing model" will include additional fees for going over the allotted amounts of 1s and 0s that cause so much wear and tear on the company's Internet tubes.
The chat support guy from Comcast typed a winky-face emoticon and now I'm pressing charges.

— Steve Amiri (@SteveAmiri) April 21, 2014

(by Dennis DiClaudio)