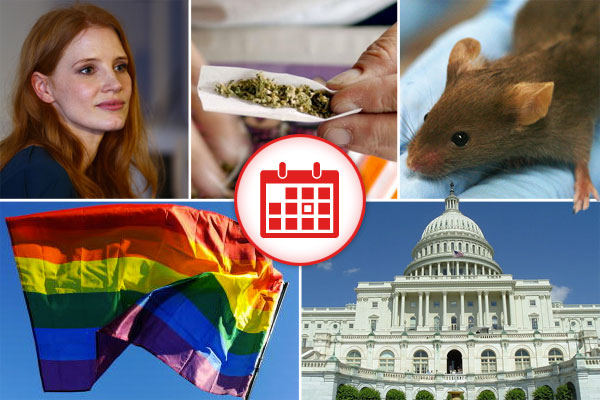 1. Congress Fixes USA FREEDOM Act By Making It Free Of Anything Worthwhile
Bowing to pressure from the Obama administration, the U.S. House of Representatives has amended the proposed USA FREEDOM Act to such a degree that nearly every civil liberties organization has dropped support for the law, which was written to end the government's collection of citizens' metadata. While the newly watered-down version provides fewer protections for U.S. citizens, it gives much more freedom to the federal government.
Besides, anything the USA calls "USA Freedom Act" is guaranteed to mean the opposite of treedom.

— Mojave Phone Booth (@MojaveFoneBooth) May 5, 2014

2. Gay Marriage Now Controls All Of U.S. Northeast, Can Begin Amassing Armies To Invade Other Regions
Now that Pennsylvania has become the 19th state to overturn prohibitions against same-sex marriage, matrimonial equality is now the law of the land in the entire Northeast region of the United States, as well as the country's full west coast. As long as all the sensible people just stay huddled together there without venturing too much into the middle of the country, they should be alright.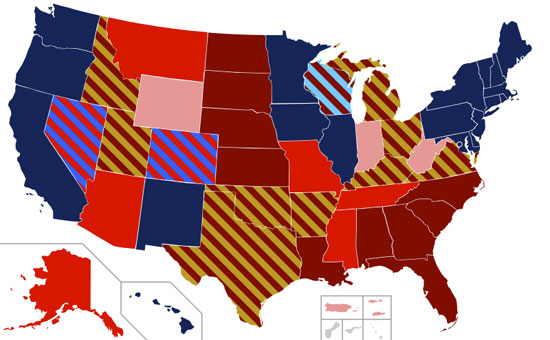 (via)
The only things dropping faster than state gay marriage bans are the jaws of bigots.

— Rex Huppke (@RexHuppke) May 20, 2014

3. The FBI Can't Hire Any Decent Cyber Experts Because They're All A Bunch Of Scofflaw Stoners
Due to the Federal Bureau of Investigation's absurd rule that its employees must follow the laws that they help enforce—such as prohibitions against marijuana—the agency is having a really hard time finding quality cyber-security experts who aren't blazing 24/7. "I have to hire a great work force to compete with those cyber criminals and some of those kids want to smoke weed on the way to the interview," the FBI director lamented recently.
Kinda hope weed doesn't get legalized, it's like the only rebellious cool thing I do

— Barbara Holm (@barbara_holm) May 13, 2014

4. Study Shows Mice Enjoy Running On Wheels And Getting Nowhere, Proving They're More Like People Than We Thought 
According to a new study from the Netherlands, mice and other members of the order Rodentia actually enjoy spending their time exerting energy and getting nowhere on spinning wheels. This is due to "an intrinsic motivation for animals... to be active." So, if you wanna see a bunch of little furry creatures having a really good time, check out this Rodents on Turntables video.
Came home once to find my rat who'd been running on his wheel for 3 years inspecting it from the outside with an expression of betrayal.

— erin whitehead (@girlwithatail) January 23, 2013

5. Jessica Chastain Will Not Star In The Second Season Of A Show That None Of Us Thought She Was Going To Star In Until Just A Little While Ago
Important news from Hollywood: respected actress Jessica Chastain will not be starring in the second season of HBO's acclaimed series True Detective, as was originally reported. This is terrible news for fans of the show, people who like looking at Jessica Chastain, and Happy Place bloggers who already had the header image made up and just couldn't bring themselves to replace the actress's picture with one of Mitch McConnell or somebody else.
No, I will not continue breathing. RT @vulture: No, Jessica Chastain will not be in True Detective season two: http://t.co/tZmB6qjMGz

— bobby finger (@bobbyfinger) May 21, 2014

(by Dennis DiClaudio)