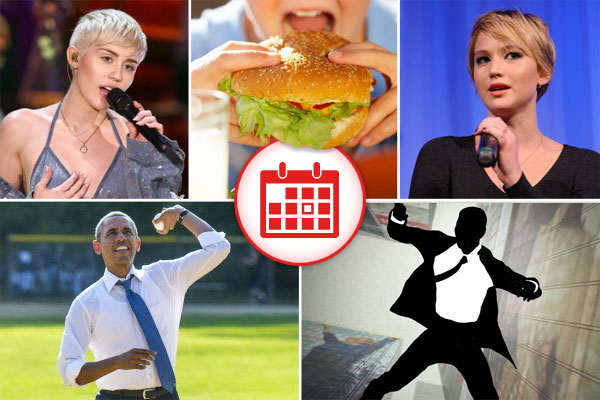 1. Jennifer Lawrence Was Told To 'Get It Together' By Miley Cyrus, So That's One More Thing She Can Cross Off Her List
Adorable actress Jennifer Lawrence adorably regaled Seth Meyers with an adorable story about how she got so adorably drunk after the Academy Awards this year that she adorably puked up the contents of her adorable stomach all over the ground, only to find another celebrity gazing upon her adorable drunkenness in pity. "And I look behind me while I'm puking and Miley Cyrus is there like, 'Get it together,'" she recalled.
I think Jennifer Lawrence is totally adorable and completely unaware that every actress over the age of 30 hates her guts.

— Jenny Johnson (@JennyJohnsonHi5) May 4, 2014

2. 5,000 Lucky Fast Food Customers Got A Free Side Of Hepatitis With Their Burgers
An employee of a Red Robin restaurant in Missouri may have exposed as many at 5,000 patrons to Hepatitis A. Immunization clinics have been set up to treat potentially infected people, and the fast food chain will not be charging customers for any infectious diseases that were not specifically requested with their orders.
Wow, my hepatitis C is going viral.

— Curtis E. Flush (@cornlog) December 23, 2013

3. Fox News Is Kind Of Right About Barack Obama's Terrible Baseball Skills
President Obama unexpectedly dropped by a little league baseball game in Washington D.C. yesterday and agreed to throw out the first pitch. Fox News—taking a momentary break from its round-the-clock Benghazi investigation—managed to get right to the crux of the story: Obama's embarrassingly bad throwing form. They even provided the following annotated photograph: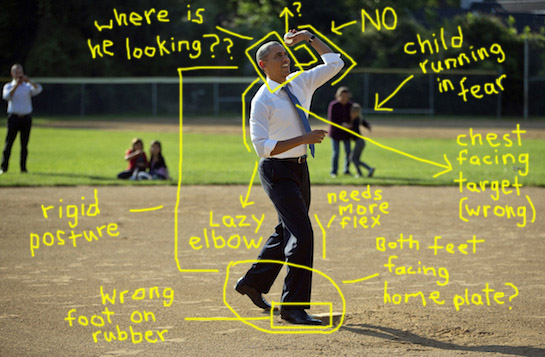 (via)
Wait til they find out the 2016 nominee has lady parts. RT @SimonMaloy: RT @foxnation: Obama Still Can't Throw a Baseball

— daveweigel (@daveweigel) May 21, 2014

4. 'Mad Men' Creator Tears Into Self-Involved Baby Boomer Generation That's Probably Thrilled To Have Someone Talking About Them
In the process of explaining to Stephen Colbert why Mad Men is for the most part told from the perspective of the generation before the Baby Boomers, the show's creator Matthew Weiner ended up throwing a lot of shade at Sally Draper's contemporaries. "There was a generation that got asked very little of," Weiner said. "They got education. They got a lot of entertainment. They got a lot of spending money. They became the focus of the economy, of entertainment, of everything."
I found a magazine without any articles by whiny baby boomers complaining about how technology is disrupting society. Thanks, "Highlights."

— Adam Isacson (@adamisacson) August 4, 2013

5. Barack Obama Magically Turns 500,000 Acres Of Desert Into National Monument With One Flourish Of The Pen
Barack Obama took advantage of his executive powers to turn 500K acres of desert in New Mexico into a national monument. House Speaker John Boehner, who apparently feels the order will undermine border patrol in the area, was outraged that the President should use his presidential powers without asking permission from a bunch of people who try to block everything he does, calling the maneuver "a level of audacity that is remarkable even for this administration." 
I like the idea of a national monument called Mount Bobmore, not because of my vanity, but because of the subliminal call to action therein.

— Bob Heller (@Bob_Heller) September 21, 2013

(by Dennis DiClaudio)