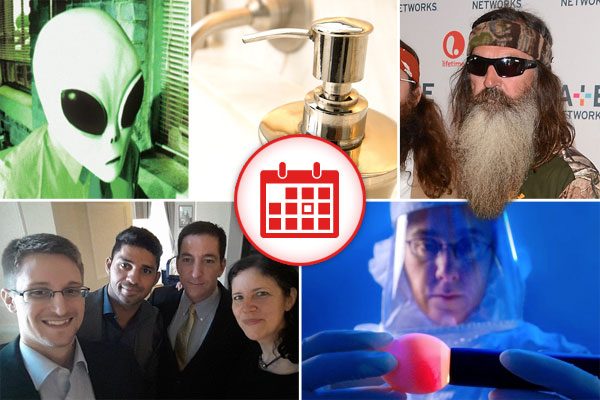 1. Hold Up, Everyone! Phil Robertson Has Some Homophobic Things He Forgot To Say
Remember back when Duck Dynasty patriarch Phil Robertson said those homophobic things in GQ, and everyone was so amazed that a deeply religious person could base his distaste for gay people on passages from the Bible, and then Robertson kinda sorta apologized, and then everyone was all like, "Okay, I'm tired of caring about this"? Well, it turns out he still had some stored-up Bible-based anti-gay remarks he had to get out, and he used an Easter sermon as an opportunity to purge. "You want the verse? The news media didn't even know it was a verse!" Robertson said. "They thought I was just mouthing off. Is homosexual behavior a sin? The guy asked me. I said, do you not know that the wicked will not inherit the kingdom of God? Don't be deceived."
Phil Robertson makes "high-end" duck calls. If you're paying $250 to blow something and it's not a man's penis, THAT is an affront to god.

— Guy Branum (@guybranum) January 3, 2014

2. SETI Astronomers Tip U.S. Legislators Off On Whole New Kind Of Aliens For Them To Demonize
Members of Congress were recently informed by astronomers from SETI that extraterrestrial intelligence is not only possible, but highly likely. "In the last 50 years, evidence has steadily mounted that the components and conditions we believe necessary for life are common and perhaps ubiquitous in our galaxy," an astronomer explained. "The possibility that life has arisen elsewhere, and perhaps evolved intelligence, is plausible and warrants scientific inquiry." And if you don't think those green alien things are coming for our jobs, you're delusional!
Apparently aliens are afraid to come at us

— Theo Von (@TheoVon) May 17, 2014
3. Good Thing We Have So Many Have Scientists Studying Diseases, Because We'll Need That Knowledge When They Accidentally Unleash A Pandemic Upon Society
According to a new study, there is a small but definite chance than one of the many viruses being created in scientific labs all around the world could infect a person working on it, who will then bring it out into the world, where it will likely spread unhindered from husband to wife, mother to child, nerdy kid to husky bully. And then, bam! A world full of rage zombies. 
A pandemic is when like a whole town gets sick from eating at Panda Express.

— Ken Jennings (@KenJennings) August 4, 2013

4. Edward Snowden, The Hip Young Face Of Political Refugees, Begins Taking Selfies
In an apparent effort to keep himself relevant in these ever-changing days of social media,NSA whistleblower Edward Snowden has taken a selfie. In the photo, which he took himself, he is seen smiling next to documentary filmmaker Laura Poitras, journalist Glenn Greenwald, and Greenwald's partner, David Miranda. The civil rights activist is expected to send out a SnapChat of his balls resting upon some secret documents in the coming days. 
Edward #Snowden, photographed this morning with @ggreenwald, Laura Poitras and David Miranda: pic.twitter.com/eCU13U0Kj6

— Free Snowden (@free_snowden) May 22, 2014
Snowden to Contribute Funny Phonecalls to Putin's Weekly Podcast

— Uncle Dynamite (@UncleDynamite) May 23, 2014

5. Minnesota Bans Anti-Bacterial Soap That Doesn't Do Anything And Also Will Kill Us All
Minnesota recently became the first U.S. state to ban the sale of anti-bacterial soap. The apparent reason is that research has shown that the cleaning product is completely ineffective and also highly dangerous.
I guess I should stop eating anti-bacterial soap.

— Erik Tanouye (@toyns) December 17, 2013

(by Dennis DiClaudio)