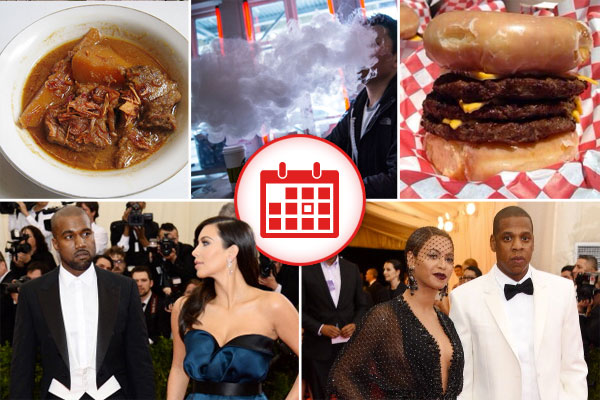 1. That One Guy Who, Like, Raps And Stuff Married That Lady With The Butt From That TV Show Your Sister Watches
Professional famous people Kim Kardashian and Kanye West were finally married for the second time in Florence, Italy yesterday. The ceremony was reportedly like something out of a fairy tale. Particularly that one about the two disgustingly wealthy narcissists who totally deserve one another, whatever it's called. 
If Kanye didn't sing "Gold Digger" while Kim walked down the aisle, I'm not interested in hearing anything else about their wedding

— Gloria Fallon (@GloriaFallon123) May 25, 2014

2. Breaking News: Jay Z and Beyoncé Attended Zero Weddings This Weekend
Hip-hop and R&B artists Jay Z and Beyoncé Knowles drew headlines this weekend by quietly enjoying themselves in the Hamptons and not attending any world-shattering matrimonial unions between fame-mongering attention-starved adult children.
"I want a relationship like Jay Z & Beyoncé. But all I ever get is Cray-Z & Beyond-sane." - overheard in Toronto.

— Andy Pandy (@Mr_AndrewHunt) May 25, 2014

3. Norwegian Man Has Pleasant Evening At Home, Eating His Own Hip
A Norwegian artist—who somehow managed to talk doctors into taking his flesh-covered hip bone home with him after hip replacement surgery—has reported that his meat has the "flavour of wild sheep." Because, yes, he ate it. "I made myself dinner while my girlfriend was at work," he explained, "and I just resolved to have this really nice moment, with me and my hipbone."
If I were an "edgy" standup comedian, I'd focus on cannibalism jokes. You're unlikely to have cannibalism victims in your audience.

— Semiotic Stochastic (@mitdasein) December 26, 2013

4. Here Is The Krispy Kreme Triple Cheeseburger You Foresaw In Your Nightmares
Because fair customers don't generally go in for boring health food options like piles of meat and cheese inside bread, one stand at the San Diego County Fair will be replacing the buns of their triple cheeseburgers with Kripsy Kreme donuts. Hopefully, this is being served close to the cardiologist stand. 
If I'm a little lethargic today, blame Chicken Charlie and his Krispy Kreme triple cheeseburger #sdfairfood pic.twitter.com/0CJN2B1gIq

— Michele Parente (@sdeditgirl) May 21, 2014
Bury my diabetic feet in a Krispy Kreme box.

— Jocelyn Plums (@FilthyRichmond) March 28, 2014

5. E-Cigarette Producers Finally Give Humanity The Chance To Smoke A Tootsie Roll
General Mills. the Girl Scouts of America and Tootsie Roll Industries have all sent cease and desist notices to e-cigarette manufacturers in an effort to keep them from selling nicotine flavors such as Cinnamon Toast Crunch, Thin Mint and Tootsie Roll. And just when we were about to realize our full potential as a civilization.
Sometimes I play my electronic drums while smoking an e-cigarette, like Sci-Fi's dreariest daydream.

— Jason Good (@jasonmgood) April 19, 2014
(by Dennis DiClaudio)