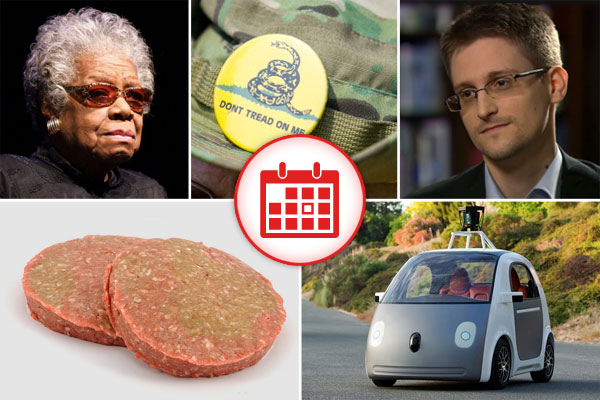 1. Edward Snowden Pulls Off His Nerdy Hacker Mask To Reveal That He's Actually Nerdy Spy
During an interview for NBC News that will air in its entirety tonight, NSA whistle-blower and political refugee Edward Snowden revealed to Brian Williams that he was actually working as a spy for the United States prior to coming forward about what he perceived to be violations of U.S. citizens's rights. "I was trained as a spy in sort of the traditional sense of the word, in that I lived and worked undercover overseas, pretending to work in a job that I'm not, and even being assigned a name that was not mine," he explained. He did not, however, reveal how many women who look like Victoria's Secret models he slept with inside gondolas floating down subterranean rivers. Though, it's probably safe to guess less than five.
Edward Snowden tells NBC News he was "trained as a spy" and is "a 10th-level cleric with luminous armor and Zeladazat the Ghost Sword."

— Rex Huppke (@RexHuppke) May 28, 2014
2. The World's Population Of Wise Old Black Celebrity Poetesses Sadly Decreases By One
Maya Angelou—who is as notable for her work as a political and civil rights activist as she is for somehow managing to make a comfortable living as a poet—died today at the age of 86.

3. Google's New Self-Driving Car Is Just A Tad Less Cool-Looking Than The "Knight Rider" Car
Google has unveiled its newest design for an autonomous car yesterday, and it's nearly as awesome-looking as you've been hoping such a thing would be since you were sitting in front of the television watching re-runs of Knight Rider as a kid. There are a few small differences. Most notably, instead of being a sleek black Pontiac Trans Am sports car like KITT, this one is shaped more like a gray-and-white two-tone half-deflated balloon. Also, there's only two seats and no steering wheel. Other than that, though, just as rad.
After a long day of travelling in my Google car and wearing Google Glass, I unwind by Googling "Google" and posting the results on Google+.

— Mark Leggett ✂︎ ☹ (@markleggett) May 28, 2014

4. Tea Party Republicans Kicked Ass In Last Night's Primaries, Which Is Great News For Everybody Except Republicans
Tea Party candidates really ran the table in last night's Republican primaries in Texas, knocking out a number of incumbent "establishment" Republicans, such as David Dewhurst and John Ratcliffe, Congress' last remaining veteran of World War II. It was a great night for extreme-right conservatives, as well as anyone hoping to see Democrats win a race or two this November.
The Tea Party is not dead. The call is *coming from inside the GOP* pic.twitter.com/HkjLQ5qyxo

— pourmecoffee (@pourmecoffee) May 28, 2014

5. The World Will Just Have To Wait For That Cheap, Weird Lab-Grown Meat It's Been Clamoring For
Annoying killjoy scientists are warning the world that synthetic meat—also known as "in vitro meat," "shmeat" and "that stuff your dad is never going to eat"—is still a far way off from being widely available and affordable. In the meantime, there's always vegan ground beef.
"Meat grown in a lab? That's disgusting! Vaginas grown in a lab? Maybe we should hear these scientists out." - dudes

— Jocelyn Plums (@FilthyRichmond) April 11, 2014

(by Dennis DiClaudio)