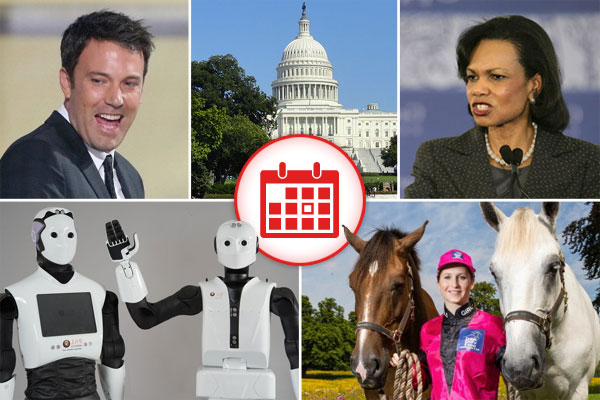 1. Ben Affleck Banned From Las Vegas Casino For Knowing How Math Works
Filmmaker and actor Ben Affleck was reportedly expelled and banned for life from the Hard Rock Cafe's casino in Las Vegas, Nevada, after gaming officials observed him utilizing his brain to calculate mathematical equations in an effort to perform well while playing the card game known as Blackjack. This is sometimes referred to as "counting cards." Although this practice is not technically illegal, it is shunned by casinos worldwide, due to the fact that it helps gamblers to not lose.
Ben Affleck kicked out of Vegas casino for counting cards. No no, Ben, you're playing BATman.

— Matthew O'Brien (@MattOB34) May 3, 2014

2. After Protests, Condoleezza Rice Employs Exit Strategy From Delivering University Commencement Speech
One week after First Lady Michelle Obama bowed to pressure against her delivering a commencement speech for graduating high school students in Kansas, former Secretary of State Condoleezza Rice has decided to withdraw from speaking before the graduating class at Rutgers University in New Jersey, citing protests from students, who apparently want to show the world how good they are at keeping high-profile minority women from following through with inspirational speaking engagements.
I was OK with Condoleezza Rice giving the commencement address at Rutgers, ONLY, to distract her from starting more wars.

— Jamie Kilstein (@jamiekilstein) May 3, 2014

3. Stephen Hawking Uses His Unsettling Robot Voice To Warn Humanity That Artificial Intelligence Will Be Its Doom 
World-renounced theoretical physicist Stephen Hawking is joining several other scientists in warning humanity that it might be getting more than it's bargaining for with regards to the future of artificial intelligence. In an article for The Independent, they warn: "One can imagine such technology outsmarting financial markets, out-inventing human researchers, out-manipulating human leaders, and developing weapons we cannot even understand. Whereas the short-term impact of AI depends on who controls it, the long-term impact depends on whether it can be controlled at all."
I would betray us all to the robots right now if I could.

— Mike Drucker (@MikeDrucker) April 12, 2014

4. Anna Rose Napravnik Hopes To Be The First Tiny Female Person To Win Big At Kentucky Derby
Is a sport traditionally dominated by diminutive men in brightly colored satin costumes ready for a successful woman? Can a lady fully understand the feeling of moving in elegant, rhythmic synchronicity with the massive, muscular beast that heaves betwixt one's legs? The 26-year-old New Jersey-born Anna Rose Napravnik thinks so, and she's hoping to prove it by becoming the first woman to win the Kentucky Derby tonight. 
this year we will have the first openly gay horse competing in the kentucky derby

— Cornell Reid (@CornellReid) February 27, 2014

5. House GOP To America: "Benghazi, Benghazi, Benghazi, Benghazi, Benghazi. Benghazi!"
Following the revelation that U.S. Ambassador to the United Nations Susan Rice was in fact prepped by the White House on how to discuss the attack on the U.S. consulate in Benghazi, Republicans in the House of Representatives have vowed to say the word "Benghazi" at least once every 32 seconds. Or something remarkably similar.
Fox News: Is Benghazi a trick to distract us from vaccines that are trying to take our guns IRS fluoride Obama tyrant War on Christmas?

— Rex Huppke (@RexHuppke) May 2, 2014