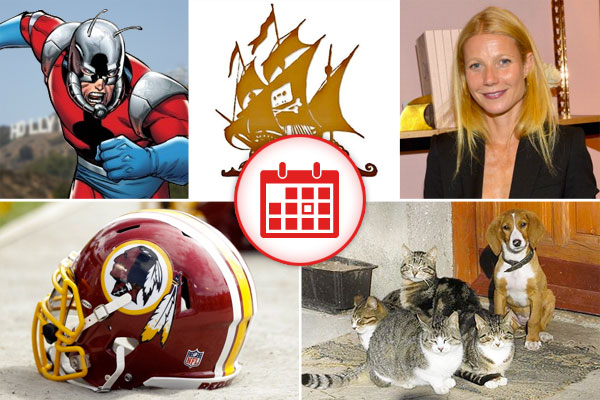 1. Chance Of Success For 'Ant-Man' Film Shrinking to Infinitesimal Size As Marvel Studios Seems Unable To Secure A Decent Director
After film director Edgar Wright (The World's End, Shawn of the Dead) left production of Marvel Studios' Ant-Man due to creative differences last week, it briefly appeared as though Adam McKay (Anchorman, The Other Guys) would be taking over the project. However, McKay has now also decided against directing the movie about the mostly unknown comic book character whose superpower is to shrink down real small and retain the strength of a regular human being. His reason remains unknown.
Ant-Man is for dorks & so is Edgar Wright. Another dork will make Ant-Man, and Wright will make a different movie for dorks. It'll be fine.

— Max Silvestri (@maxsilvestri) May 23, 2014

2. Cindy McCain Doesn't Appreciate The Trauma That Heroes Like Gwyneth Paltrow Live Through Everyday
Cindy McCain—wife of Sen. John McCain and mother of two U.S. soldiers—took to Twitter recently to criticize Gwyneth Paltrow's recents comments about how mean Internet comments are kind of the same kind of hell that soldiers experience while being shot at during war. "You come across [online comments] about yourself and about your friends, and it's a very dehumanizing thing. It's almost like how, in war, you go through this bloody, dehumanizing thing, and then something is defined out of it," the actress and GOOP founder said to re/code. I kind of understand what she means. After reading her quotes, I often feel like I've taken shrapnel to the face.
Gweneth Paltrow is a joke. Her life is like taking bullets for a soldier. What a joke! My 2 sons serving in the military should talk to her.

— Cindy McCain (@cindymccain) May 29, 2014
Gwyneth Paltrow says mean online comments are "like war." Luckily, GOOP has an adorable flak jacket w matching combat boots for only $3,300!

— Frank Santopadre (@Franksantopadre) May 29, 2014

3. Native American Tribal Leader Opts Not To Support Football Team Named For Racial Slur
Joseph Holley—chairman of the Battle Mountain Band of Te-Moak Tribe of Western Shoshone Indians—has reportedly declined a very generous offer to help a bunch of rich white people make their football team's name seem less racist. "Someone working for the [Washington Redskins] called me out of the blue to invite me to a meeting in D.C. with the team and its owners and wanted to know what I thought of the team name," Holley said in a statement. "They did not tell me what the meeting was about, what I would be doing or who else was invited and wanted my answer in just a few hours. My answer was no. I've got responsibilities to my community and members here at home and can't be running off to D.C. at a moment's notice to meet with a football team to do who knows what."
The Washington Redskins should change their name to the Washington Cracker-Ass Honkeys as a tribute to their defiantly bigoted ownership.

— Mike Rylander (@MikeRylander) May 30, 2014

4. The Pirate Bay Celebrates The Eight-Year Anniversary Of Being Shut Down By Police By Continuing To Not Actually Be Shut Down
Happy Pirate Independence Day! Eight years ago today, the offices of the Pirate Bay—a website which tracks content available for peer-to-peer file sharing—were raided by Swedish police. For all Internet users who take advantage of the illegally available media online, today represents the resilience and tenacity of online pirates. For the other 2.7 percent of people, it's just a Saturday.
If musicians don't want people to illegally download music, then they shouldn't upload their albums to torrent sites under fake names.

— Mark Leggett ✂︎ ☹ (@markleggett) March 15, 2014

5. People Who Scoop Up Animal Feces From Litter Box Found To Be More Thoughtful and Sensitive Than Those Who Pick It Up With A Plastic Bag On The Street
According to a new study of 600 pet owners, "cat people" tend to be more open-minded and sensitive than "dog people," who are generally more out-going and conformist. "It makes sense that a dog person is going to be more lively, because they're going to want to be out there, outside, talking to people, bringing their dog," a researcher explained. "Whereas, if you're more introverted, and sensitive, maybe you're more at home reading a book, and your cat doesn't need to go outside for a walk."
There are three cats for every dog on the planet. Suck it dogs.

— Andrew Kaczynski (@BuzzFeedAndrew) April 21, 2014

(by Dennis DiClaudio)