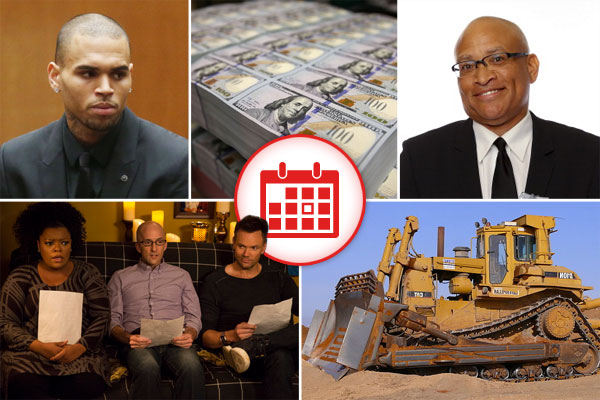 1. Comedy Central Names Larry Wilmore As Guy Who Somehow Has To Replace Stephen Colbert 
Comedy Central has announced that The Daily Show's Senior Black Correspondent Larry Wilmore will replace Stephen Colbert in the channel's 11:30 time slot as host of a news program called The Minority Report, which will "offer a comedic look at news, current events and pop culture from unique perspectives not typically on display in late night television."
"Make up your mind, America. You can't tell brothers to pull up our pants and then arrest us when we try to buy a belt." -Larry Wilmore

— Comedy Central (@ComedyCentral) November 7, 2013

2.  Chris Brown Going To Jail For One Whole Year... Or Six Days — Whichever Comes First
A Los Angeles judge has sentenced R&B artist Chris Brown to one year in jail for violating his probation by Chris Brown-ishly getting into a street fight several months ago in Washington D.C. Of those 365 days sentenced, Brown is expected to serve about six, because that's how the legal system works in America. 
Chris Brown: Hate the sinner, love the sinner's music when drinking or working out.

— Trevor S (@trevso_electric) April 27, 2014

3. Extremely Weird Quasi-Sitcom With Low Ratings But Huge Nerd Following Gets Cancelled For Some Reason
NBC has announced that it is pulling the plug on its hit (in cult terms only) half-hour comedy Community after five seasons of sub-par ratings, mostly positive reviews and behind-the-scenes in-fighting conflicts. 
Just took the Which Community Cancelation Tweet Are You? and got "out-of-context gif from the show"

— Erik Tanouye (@toyns) May 9, 2014

4. We Might See Humanity's First Trillionaires In The Next Few Decades, Unless We Starve To Death In The Cardboard Box We'll Be Living In First
People act like 16 trillion is a lot, but all the US government has to do is sell 8 million regional jet engines to some Trillionaire.

— Eugene Mirman (@EugeneMirman) September 4, 2012
Financial experts are predicting that the Earth will see its first string of trillionaires sometime in the next 25 or so years. And, on top of that, there will likely be a sharp increase in millionaires. "Two generations ahead, future extrapolation of current wealth growth rates yields almost a billion millionaires, equivalent to 20 per cent of the total adult population," according to the investment bank Credit Suisse. Unfortunately, at that time, cable service will cost $50K a month, and printer ink will be valued at one live human child.

5. Woman Has Her Neighbors' Home Bulldozed To The Ground Because She Doesn't Like Them — Bet You Can Guess Which State This Happened In
A Florida woman was jailed recently after asking a construction crew to demolish her mobile home. The domicile, as it turned out, actually belonged to her neighbor, whom she did not like and did not want living next to her anymore.
I've watched 10 people trying to fly to Florida mistakenly try to board a plane to DC. Just THINKING about going to Florida makes you dumb.

— Emily Toffelmire (@klickitatstreet) April 10, 2014