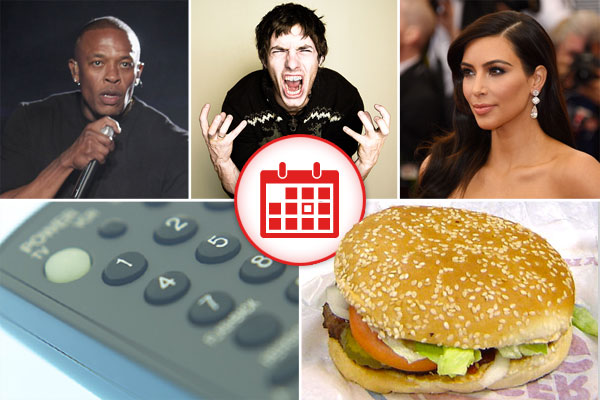 1. Dr. Dre Is About To Become The Richest Hip-Hop Artist Of The Millenium
Music mogul and entrepreneur Dr. Dre is set to become the richest hip-hop artist in more than a thousand years, as Apple appears ready to buy his Beats Electronics company for a staggering $3.2 billion.
Now that he's a billionaire I hope Dr. Dre remembers that I helped spread NWA to the mean streets of Newton, Massachusetts back in 1989.

— Krister Johnson (@KristerJohnson) May 9, 2014

2. President Obama Misses Out On Once In A Lifetime Opportunity To Meet The Kim Kardashian
President of the United States Barack Obama came this close to getting to meet Keeping Up With the Kardashians star Kim Kardashian during a USC Shoah Foundation gala they were both attending. Kardashian apparently sent her people to set up a meeting of the two mega-celebrities, but one of Obama's aides (who has almost certainly been fired) refused to grant her request and robbed the world of a historical moment.
In the time it took you to read this, Kim Kardashian made $1,500 just for existing.

— Trevor S (@trevso_electric) March 25, 2014

3. Telling People To 'Drop Dead' Often Makes You Drop Dead Sooner
According to new research, frequent arguments with others—such as obnoxious friends, ungrateful family members, inconsiderate asshole neighbors who don't realize that sound travels through walls and fellow commuters who should go and stick their goddman heads into a cauldron of molten glass—may increase one's chances of premature death in middle age.
Don?t you dare make me smile when I?m arguing with you!

— ashley barnhill (@ashley_barnhill) April 28, 2014

4. Burger King Thinks You'll Eat A Burger For Breakfast Because, Let's Face It, You Probably Will
Fast food restaurant chain Burger King has announced that it will begin offering regular menu items—such as cheeseburgers and fries—during breakfast hours, as part of an apparent ongoing effort to keep America as grease-caked and corpulent as possible. 
Burger King has added burgers to its breakfast menu for those of you who want diarrhea for lunch.

— Warren Holstein (@WarrenHolstein) May 9, 2014

5. People Only Watch A Fraction Of The Crappy Channels They'd Rather Not Be Paying For
According to a new report from Nielsen, Americans only watch about 17 of the 189 channels they currently pay for as part of their cable television subscriptions. According to personal research, approximately half of those channels feature weekend programming blocks that begin with either the word "Real" or "Haunted." 
Seems like cable channels are moments away from just using people?s vacation footage as television programming.

— Jim Gaffigan (@JimGaffigan) December 29, 2011