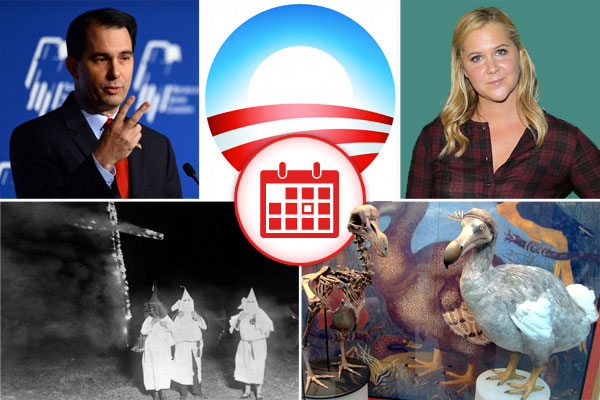 1. GOP Stumbled Upon Anti-Obamacare Tactic So Stupid It Might Actually Work
Conservative opponents of Obamacare have recently discovered that the answer to their problem of poor people having health care may lie in four small words in a subsection of the  Affordable Care Act. Due to some legal gymnastics that are too boring to go into here, a creative reading of the phrase "established by the State" could, in effect, disqualify the law in 36 states. The argument is somewhat absurd. So, naturally, the Supreme Court has agreed to hear it. 
Once they've blocked his Attorney General nomination, ended Obamacare and impeached him, GOP will work with the President.

— Frank Conniff (@FrankConniff) November 10, 2014

2. Amy Schumer Triumphantly Shatters Comedy Central's Glass P-Word
Comedian Amy Schumer has done all of humanity a great service. For years now, the word "dick" has been proudly flaunted on Comedy Central while its female counterpart remained hidden behind a post-production beep. The sketch comedy star has now successfully lobbied the basic cable channel for the right to use the word "pussy" on air, sans shame. The word's inaugural use on the channel can be heard in the clip below:
Amy Schumer seems like a grown-up, extroverted Daria Morgendorffer.

— Mojave Phone Booth (@MojaveFoneBooth) April 2, 2014

3. Blacks, Gays And Jews Can Finally Realize Their Longstanding Dream Of Joining Ridiculous Hate Group
A Montana-based wing of the Ku Klux Klan is making history by opening its membership rolls to a number of groups whom the white supremacist terror group has historically worked to subjugate. Blacks and whites, gays and straights, Jews and Christians—they can finally join hands together in the solidarity of absurd, anachronistic notions of hatred and jingoism. Martin Luther King would have been so proud.
A member of the KKK in Montana wants to create a more diversity in the Klan. By "diversity," I assume he means DIFFERENT COLORED SHEETS.

— Hari Kondabolu (@harikondabolu) November 8, 2014

4. Wisconsin Governor Scott Walker Officially Begins 2016 Election Season
Less than a week after midterm elections, presidential hopeful Wisconsin Gov. Scott Walker lobbed a thinly-veiled insult at fellow Wisconsinite Sen. Paul Ryan, who is expected to be a strong candidate for the GOP nomination. Declaring to Politico that "governors make much better presidents than members of Congress," Walker dropped the gauntlet and lifted the curtain on the clown show that will be the 2016 presidential election cycle.
The worst part about the Paul Ryan/Scott Walker-version of Fight Club is realizing Walker is the Brad Pitt character.

— LOLGOP (@LOLGOP) November 7, 2014

5. Scientists Spending An Awful Lot Of Time And Energy Finding Out All There Is To Know About Bird That Doesn't Even Exist Anymore
Just because the Dodo has now been extinct for more than three centuries is no reason for scientists to slow down on finding out everything they can about the flightless bird. Using 3D lasers and computers to intricately study every aspect of Dodo skeletons, researchers have made great strides recently in our understanding of these creatures. This will all come in very handy if one of the odd-looking animals waddles out of the woods one day.
Kickstarter: Bring back the Dodo!!

— Liana Maeby (@lianamaeby) November 26, 2013

(by Dennis DiClaudio)