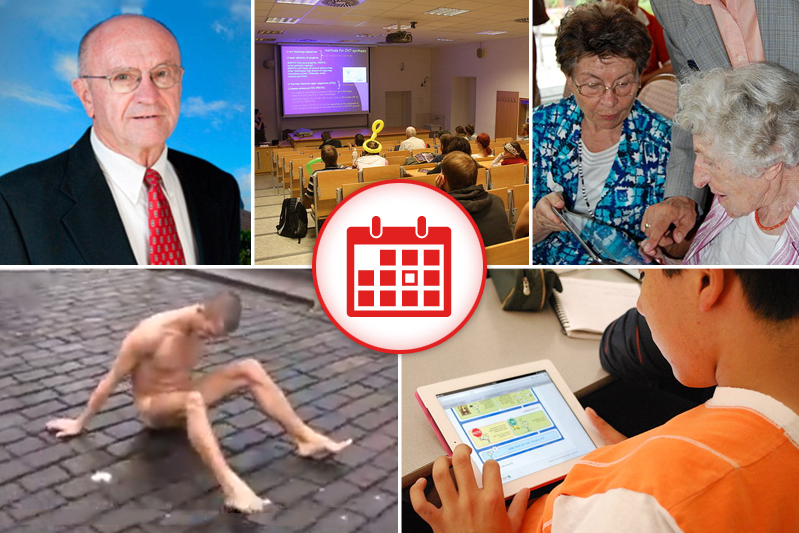 1. Guy Nails His Balls To The Ground In Protest Rather Than Simply Change His Facebook Picture For A Week
Russian performance artist Pyotr Pavlensky nailed his testicles to the cobblestone street in Moscow's Red Square to protest his country's transformation into a "police state"  as well as the "apathy, political indifference and fatalism of Russian society." Pavlensky, who was later taken to a hospital to be treated for his injuries, faces up to 15 days in jail for the act. Apparently, nobody told him he could've just downvoted some post about Putin on Reddit.
On a scale from 3 to 10, how many testicles am I supposed to have?

— nate (@lilnatebigworld) November 11, 2013

2. L.A. Schools To Stop Giving Out iPads Since Students Keep Trying To Have Fun With Them
Los Angeles public schools have decided to temporarily stop giving iPads to low-income students until they can figure out how to make certain the devices cannot be used for anything even remotely resembling fun. Students have apparently been hacking the tablets — which are supposed to be used solely for taking tests, doing homework and "playing" educational-based games — so that they can be used for social media, YouTube and probably creating porn to send to one another.
When we were kids we used to ask truckers to blow their air horns. That was our iPad.

— Bob Powers (@bobpowers1) November 5, 2013

3. Senior Citizens Falling Prey To Con Artists Exploiting Obamacare Confusion Instead Of Falling Prey To Con Artists Exploiting Something Else
Unscrupulous con artists have been taking advantage of the confusion generated by Obamacare's remarkably poor implementation to do what con artists have doing since the invention of unscrupulousness: exploiting old people's confusion with new concepts and their deep-seated need for human contact to steal all of their money.
Obamacare agent just came to my house and made me shred my blockbuster card in front of my kids.

— John Cranberrysauce (@hodgman) November 10, 2013

4. U.S. Inundated With Flood Of Well-Behaved, Highly-Motivated, Education-Seeking Foreigners
According to a report from the State Department, a record number of foreign students, including a huge influx from China, are currently studying in U.S. colleges and universities, stealing our precious information and and taking it back to their home countries to be used for who knows what. Foreign stuff, most likely.
I want to be one of those hip parents who wears cool glasses and cannibalizes foreign exchange students.

— Joe Randazzo (@Randazzoj) September 9, 2012

5. Old White Guy Wins Texas Election By Pretending To Be Black Stock Photo Model
Old white conservative Texas politician Dave Wilson won a seat on the Houston Community College Board from a 24-year incumbent the old fashioned way: He pretended to be black. His website and pamphlets, which display not a hint of what he actually looks like, were purposely designed to give the impression that he was probably one of the black guys whose pictures he downloaded from the Internet to be used for promotional purposes. He even managed to secure an endorsement from the Ron Wilson. And by the Ron Wilson, I don't mean the local African American legislator. I mean Dave Wilson's cousin Ron.

Bonus Thing: Please Feel Free To Eat All Of The White Chocolate-Flavored Pringles In The World
Really, be our guest. No, no, no. Don't feel the need to save any of them for us. We'll be fine. You just go ahead and enjoy this festive holiday treat all on your own. Oh, and maybe wash them down with every drop of mint-flavored soda on Earth.
Dumping a can of Pringles straight into your mouth is called "playing the snacksophone."

— Josh Gondelman (@joshgondelman) August 13, 2013